The awe-inspiring experience of eating at Atlanta's "Gunshow"
The idea: Each night a handful of chefs develop a few small plates designed to share with the table. The verdict: Perfection.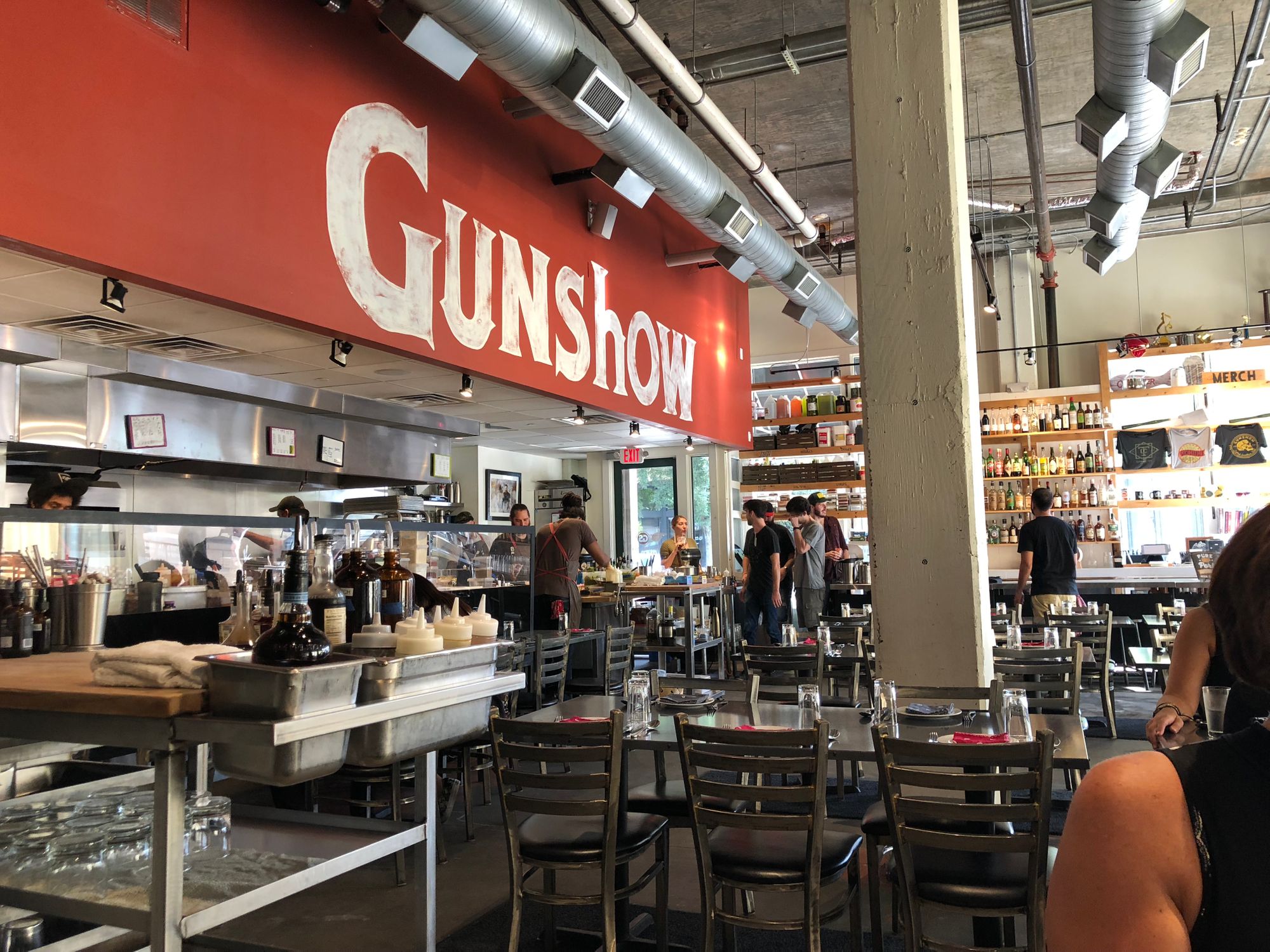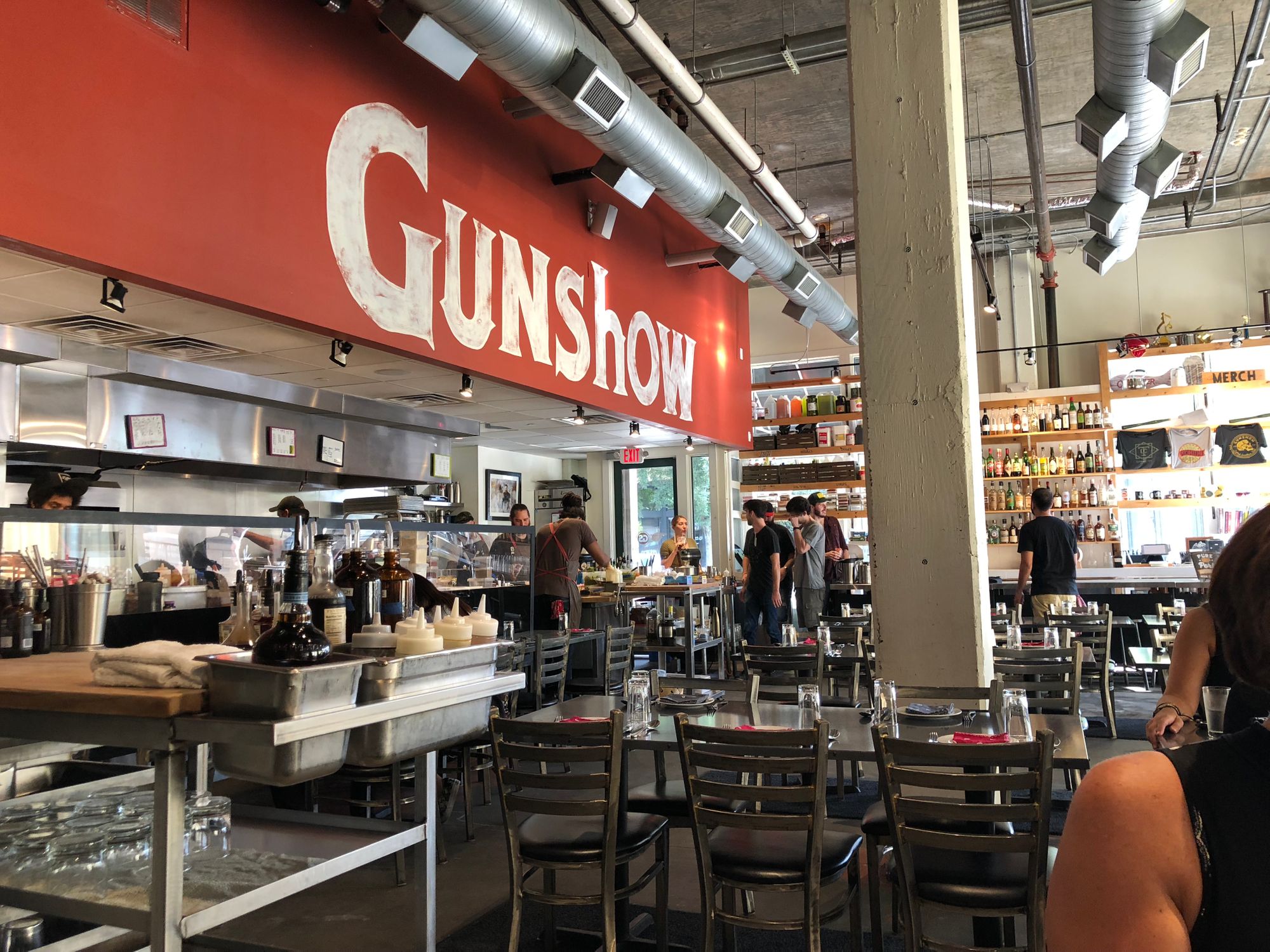 Editor's Note: The original version of this story was published on October 1, 2018, on the first edition of JWontheRoad.com as part of the "On the Road" series.
The blocks surrounding Gunshow are pretty unassuming — a few restaurants, a few bars and a coffee shop or two — but perhaps unknown to pedestrians walking by is that on the corner of Garrett Street and Bill Kennedy Way sits a culinary marvel.
Opened in 2013, Gunshow is a concept from Kevin Gillespie, the Atlanta-born chef, former Top Chef contestant and restaurateur behind Red Beard Restaurants.
The idea: Each night, a handful of chefs (there were 7 the night I went) develop a few small plates designed to be shared across the table.
When the restaurant opened, Atlanta Magazine called it one of "the most promising, perplexing, interactive, and utterly ballsy restaurants Atlanta has ever seen." The Infatuation — a localized restaurant review website focused on "honest opinions" — described the Glenwood Park spot's menu as one where "squid ink rigatoni [is just] as likely to pop up as mapo tofu or squash blossom dumplings."
Inside the building, the restaurant feels open. There are few walls, and every seat in the house has a pretty decent view of the kitchen, which occupies a full side of the space.
According to the restaurant's website, the name is a tribute to Gillespie's family and the time he spent with his father going to actual, literal gunshows.
As for price, the bill can certainly get away from you here. The key is Gunshow is an experience. It's the kind of place you go to for a celebration of life, food and drink. You're going to want to try everything on the menu, and you should. So save it for a special occasion — or make it an annual treat, since it will be different every single time.
How it works
As you get seated, a server explains that one of the only times you will see him or her will be to ensure that your drinks remain filled. For the food, you're completely in the hands of the chefs.
Shortly after you begin sipping your beverage of choice (and let me tell you, there are some choice beverages here), the chefs begin circulating and showing off their initial courses. From that moment on, you'll be presented with a whirlwind of a dozen or so dishes and many choices of custom cocktails.
Because the exact menu changes regularly, you can never really guarantee what you'll get at Gunshow. That's the beauty of it.
On the table
Let's dive in a bit on what was on the menu for our early-August feast: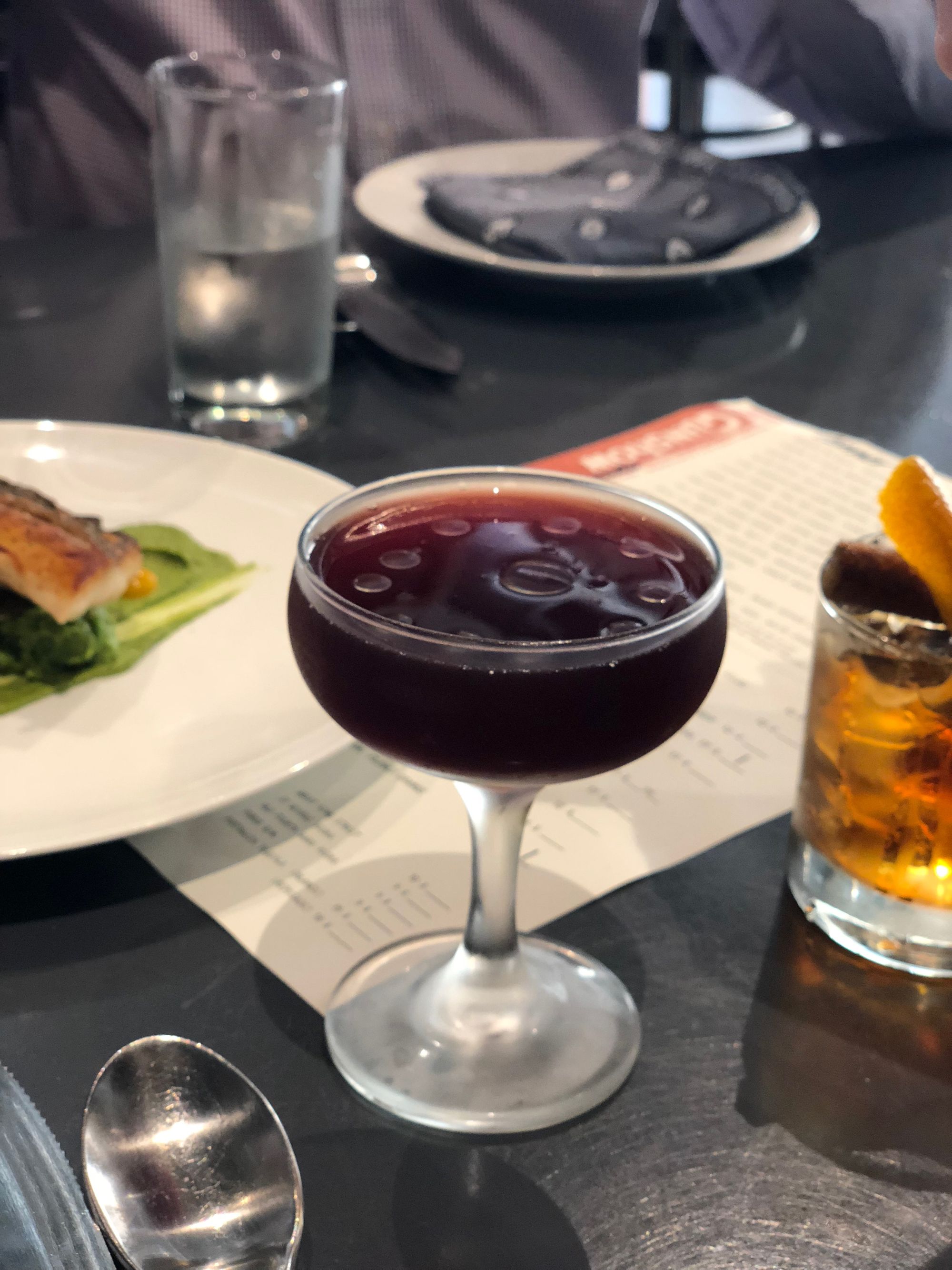 The cocktail program at Gunshow would've been the best part of the restaurant almost anywhere else, but because the food was so innovative and exciting, the cocktails took a backseat — and that's a-ok here.
Not pictured: the three-to-five more cocktails I photographed (and consumed).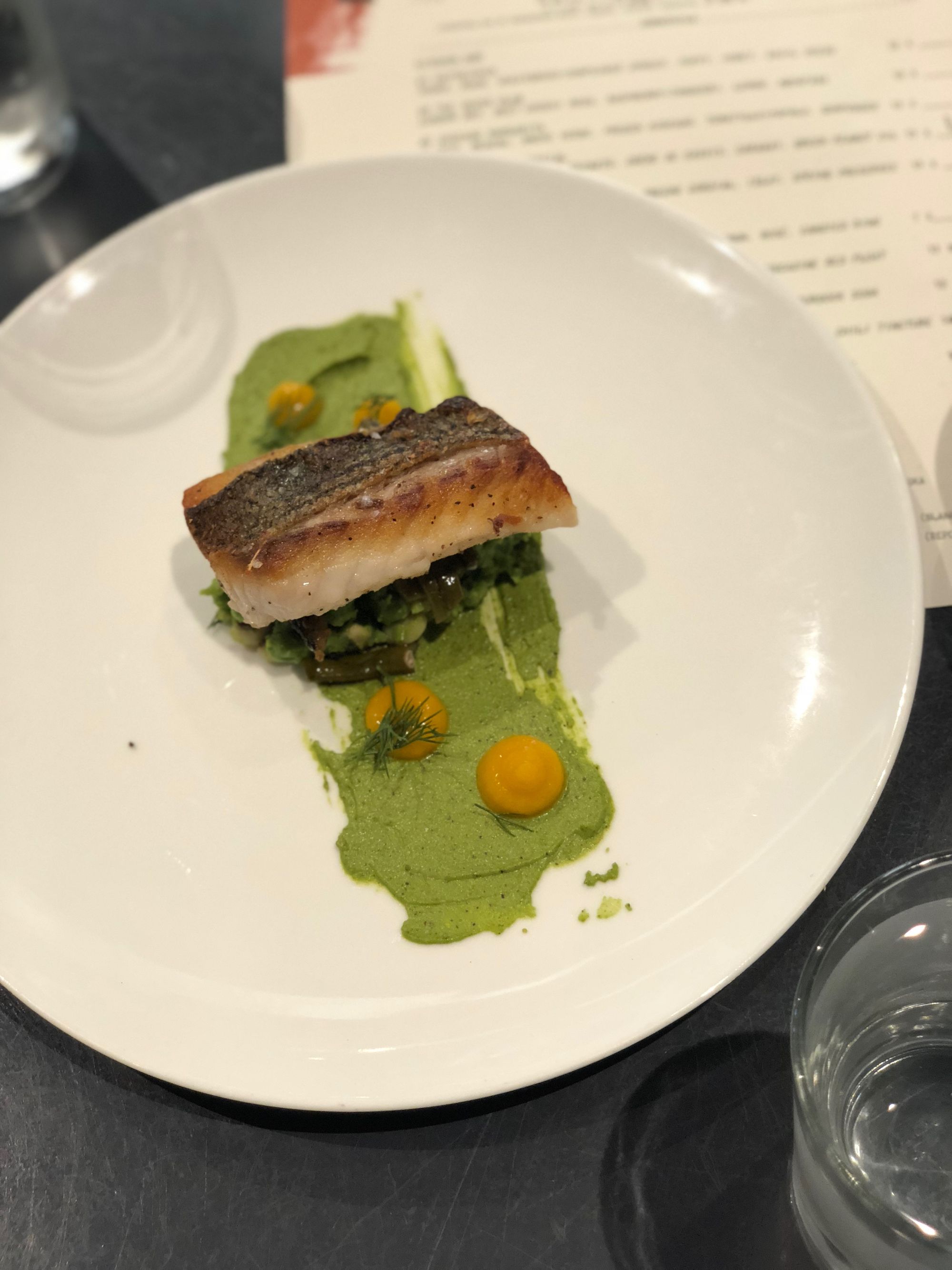 This bass dish was the first plate to hit our table. I loved the colors here, specifically how the crisped fish stood out from the bright green purée on the bright white round plate. This dish was the most expensive singular small plate on the menu, coming in at $20.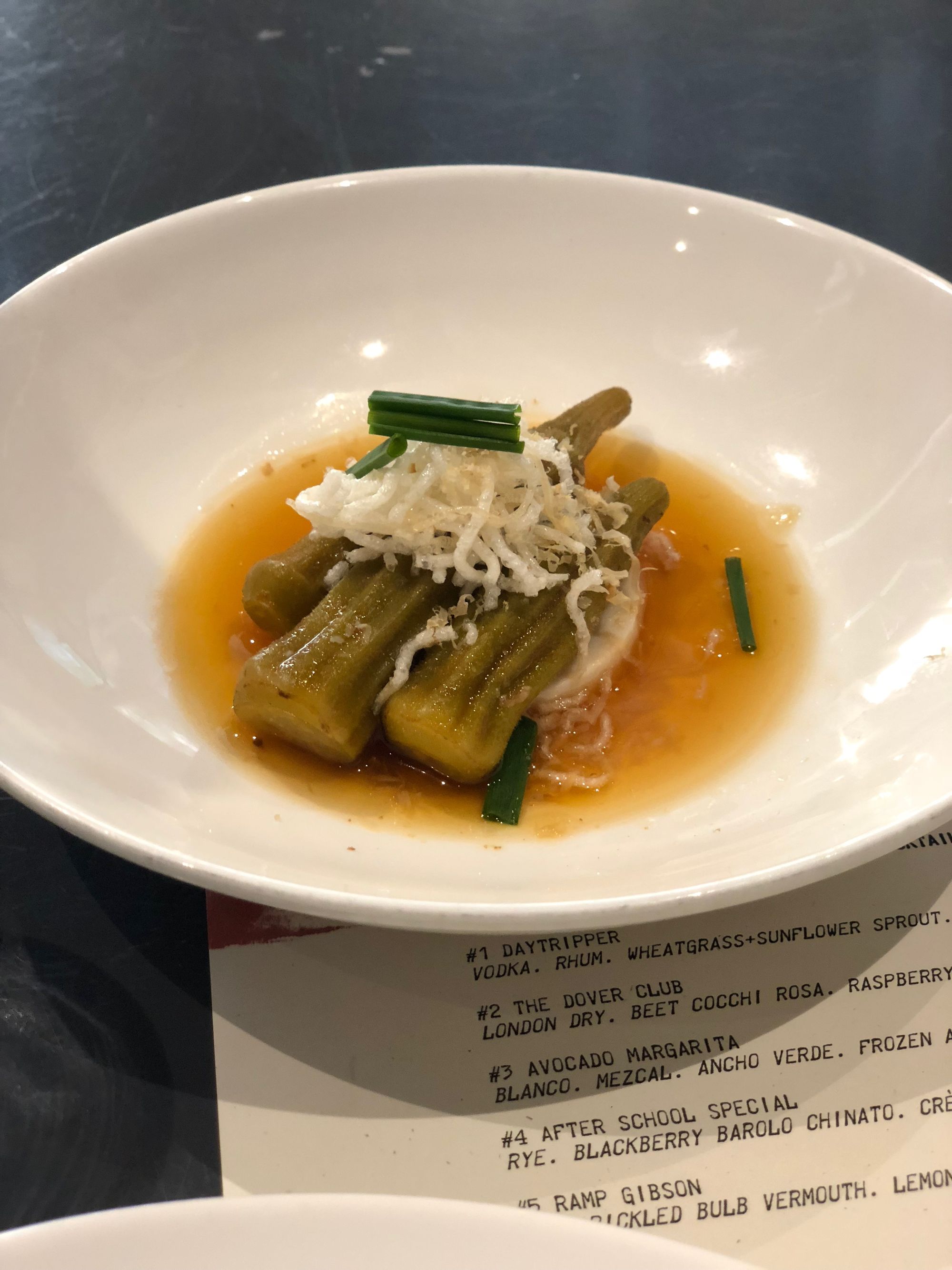 I'm a big okra fan always, and the take on it here was really exciting. The okra itself surged with flavors of dashi (a Japanese fish stock made with kelp and dried, fermented tuna flakes), but was rounded out really well by the acidity in the tomato broth.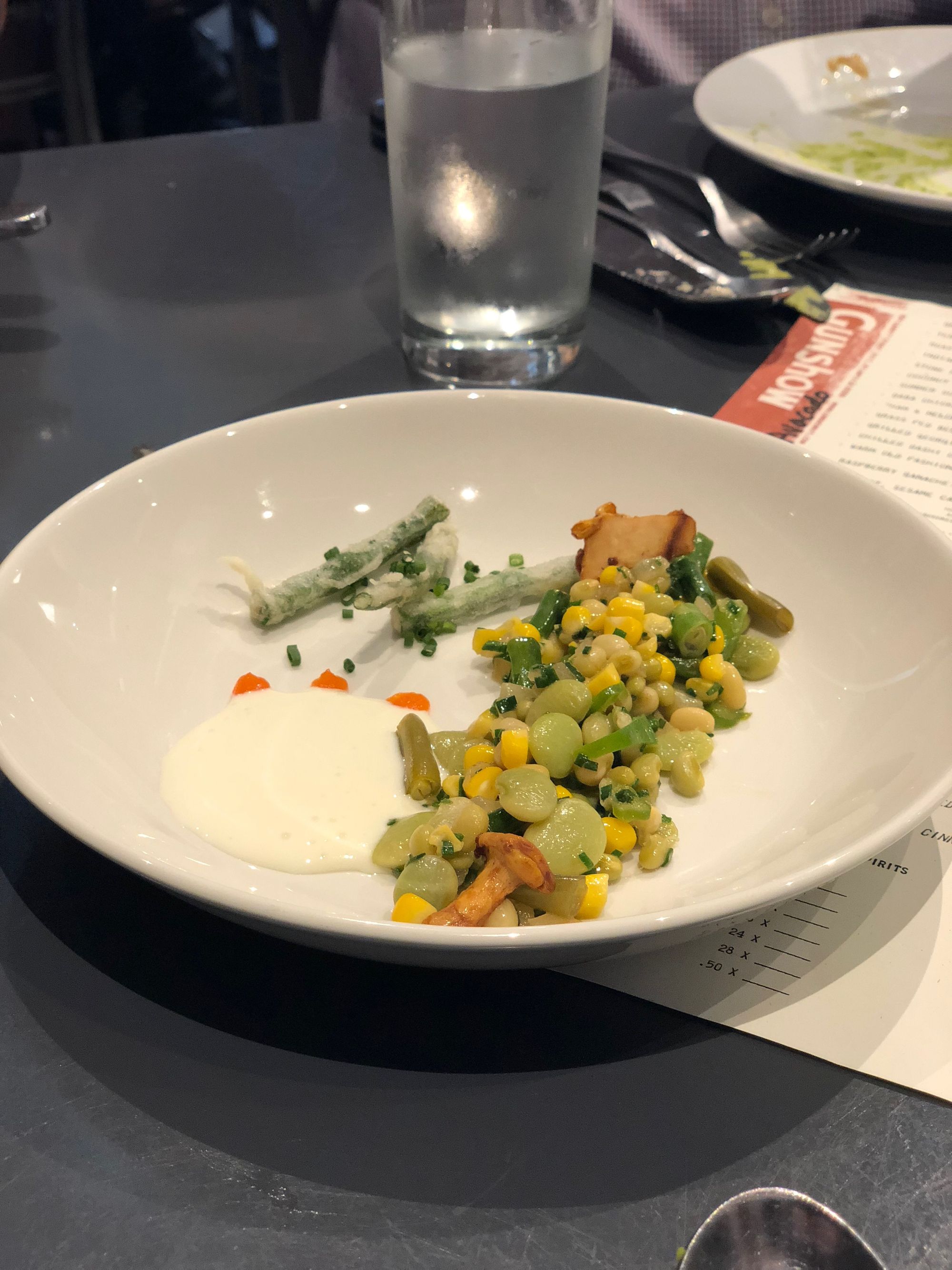 What a take on succotash! In heritage American cooking (in my home state of Pennsylvania, New England and in the South as well), succotash is typically a mix of lima beans, corn and some other vegetables. At Gunshow, they pay homage to that with those two elements, but add some chanterelle mushrooms and serve it alongside lightly-tempura-fried pickled green beans and a whipped pimento cheese. This dish worked best when you got a little bit of everything together.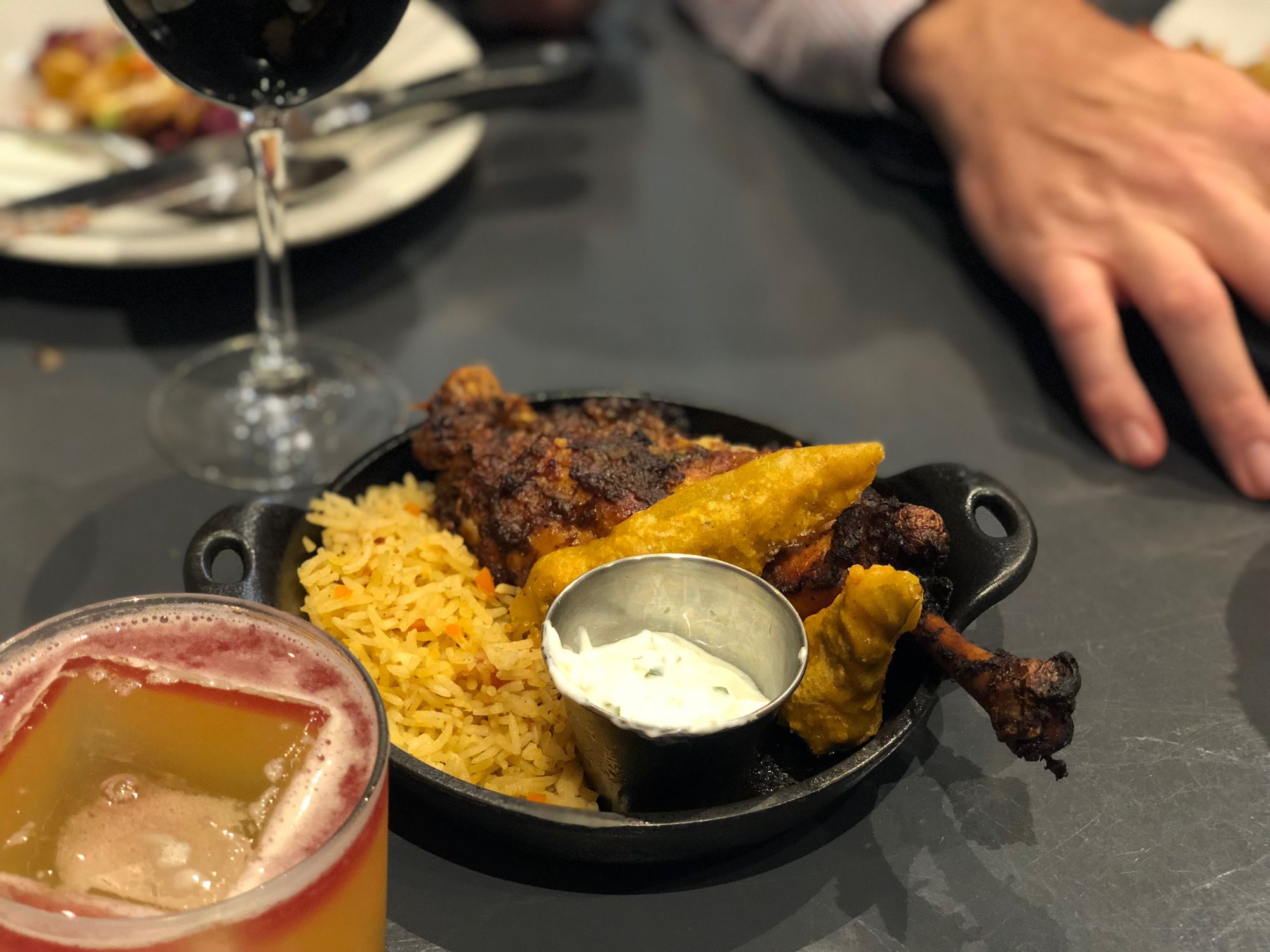 My father lost his mind over this dhaba chicken (spelled on their menu daba).
In India, a dhaba is a roadside restaurant that generally serves local cuisine, but doubles as a truck stop that gives weary travels and drivers a break from the road. This dhaba chicken dish pays homage to those roadside restaurants and comes with an okra fritter (called pakora in Indian cuisine), some rice and a raita dipping sauce. Raita is a condiment made from yogurt, cucumber and mint.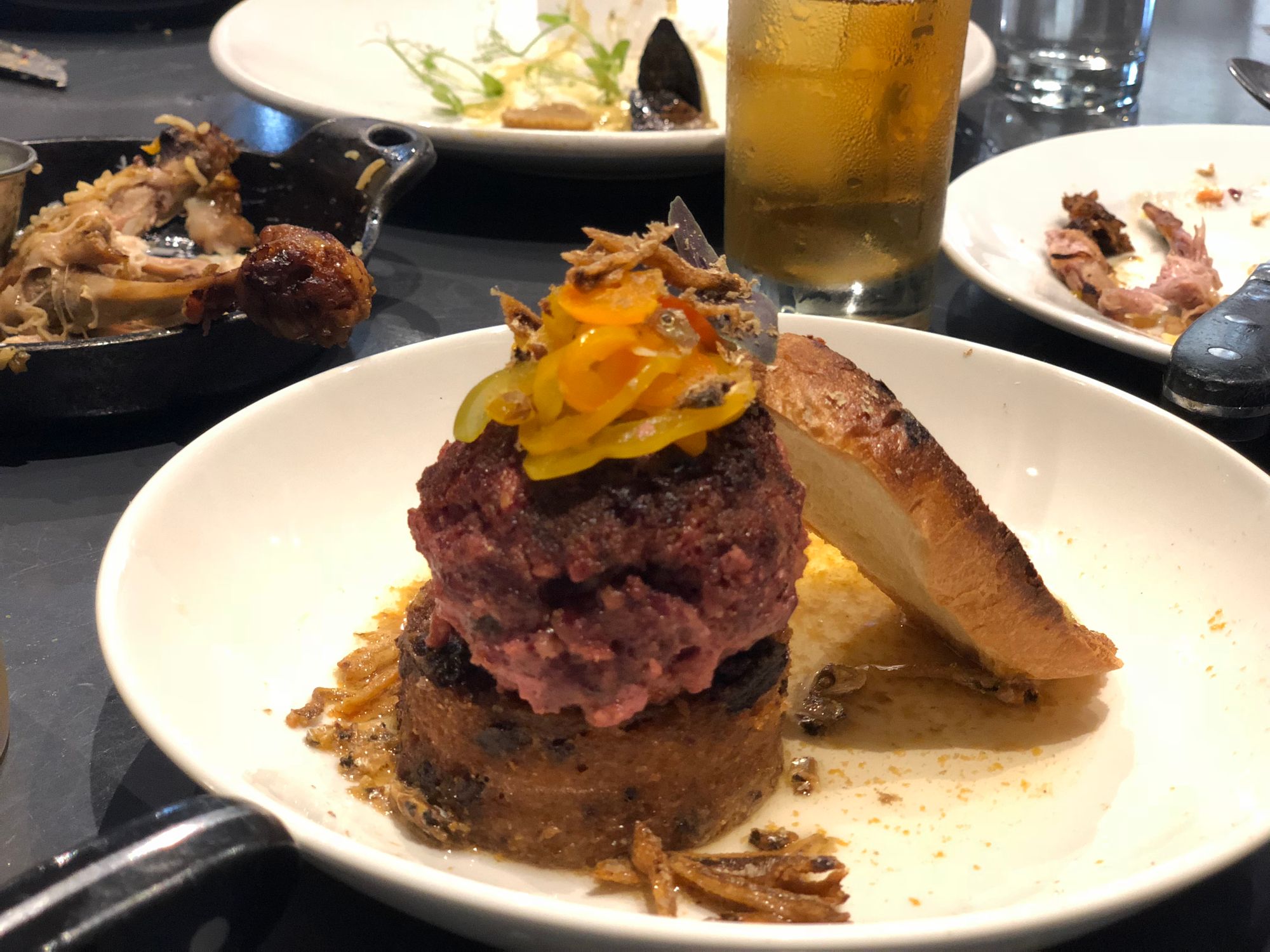 A polpetta, or meatball, made of beef heart? You crazy for this one, Gunshow.
The savory flavors of this dish hit perfectly with just the right notes of acidity over and over again. My Dad and stepmom wouldn't try this, but my girlfriend and I took care of it. More for us. This was probably among the top three for me.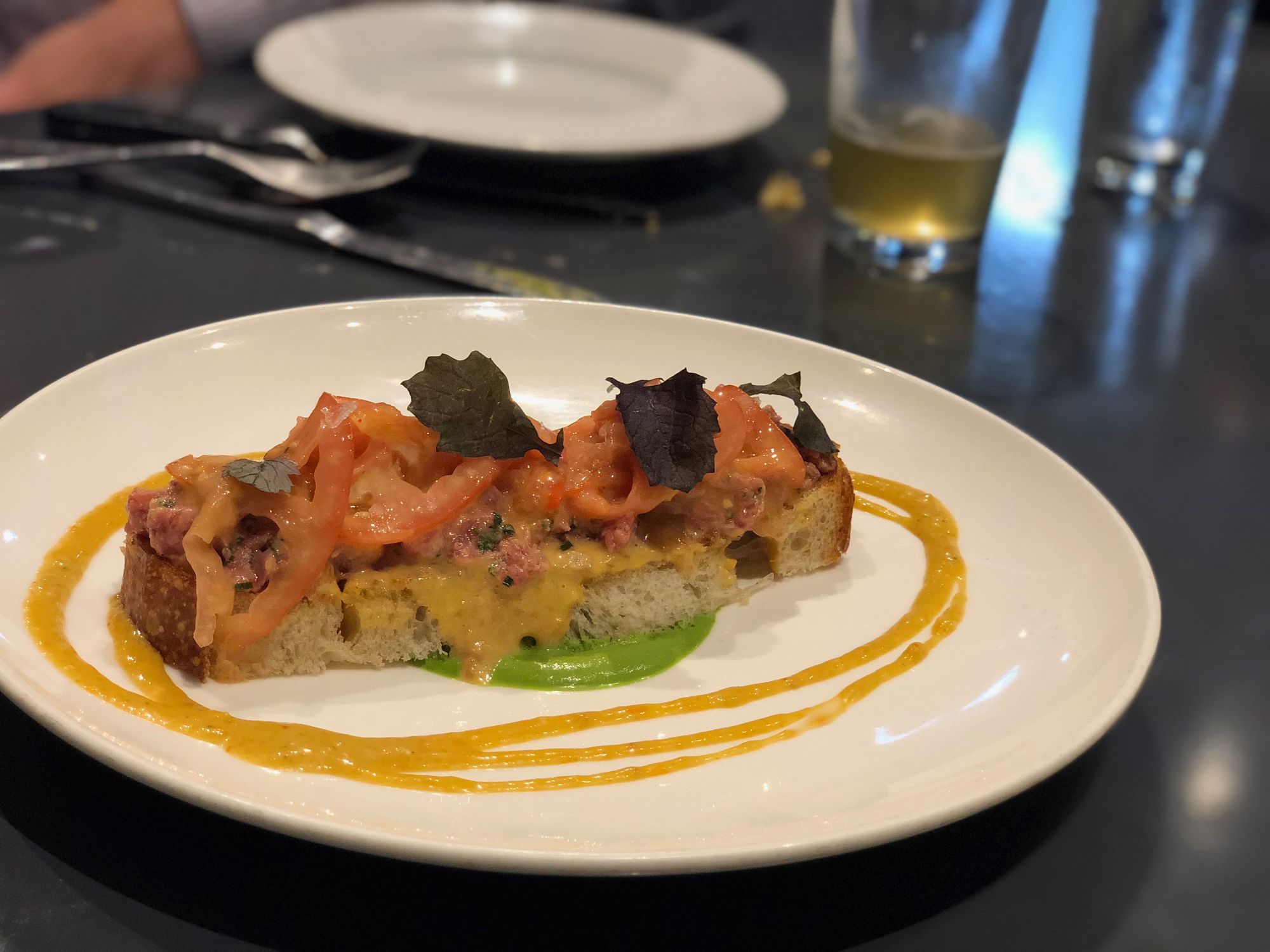 Keeping with the beef theme here, let's try some raw.
Again, another dish my folks wouldn't touch. I, on the other hand, will eat raw beef any chance I can. This take on beef tartare is intended to mimic a BLT (bacon, lettuce and tomato sandwich). The raw beef is coated in a bacon fat mayonnaise and comes with fresh, local tomatoes. The coolest part of this dish? Lettuce cream! I didn't know I needed puréed lettuce in my life — this plate told me I have been missing out.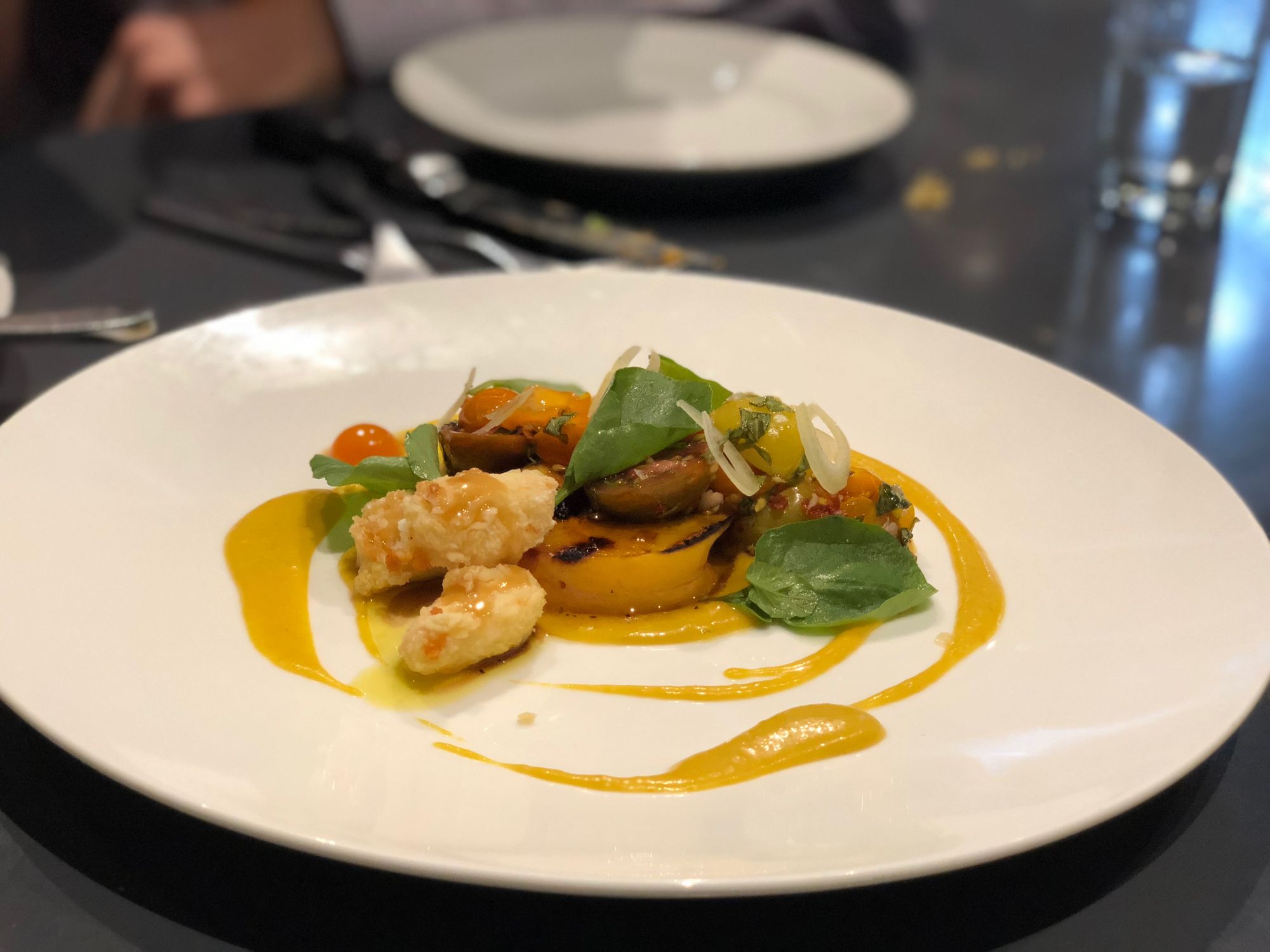 It's Georgia. You've got to have a dish with a Georgia peach.
Gunshow must've known exactly the way I feel about peaches. I'm a big fan, but love them most when they're grilled. Something about the way the sugar in the peaches caramelize when it hits the grill blows my mind every single time.
This time around, the peaches were not even the most outstanding part of this dish. Instead, it was this fried feta with a sherry sauce drizzled on top. The sherry complemented the sweetness of the peaches perfectly, while the saltiness of the feta shined when fried. We got this plate just as we were transitioning into dessert, which was the exact perfect place for it.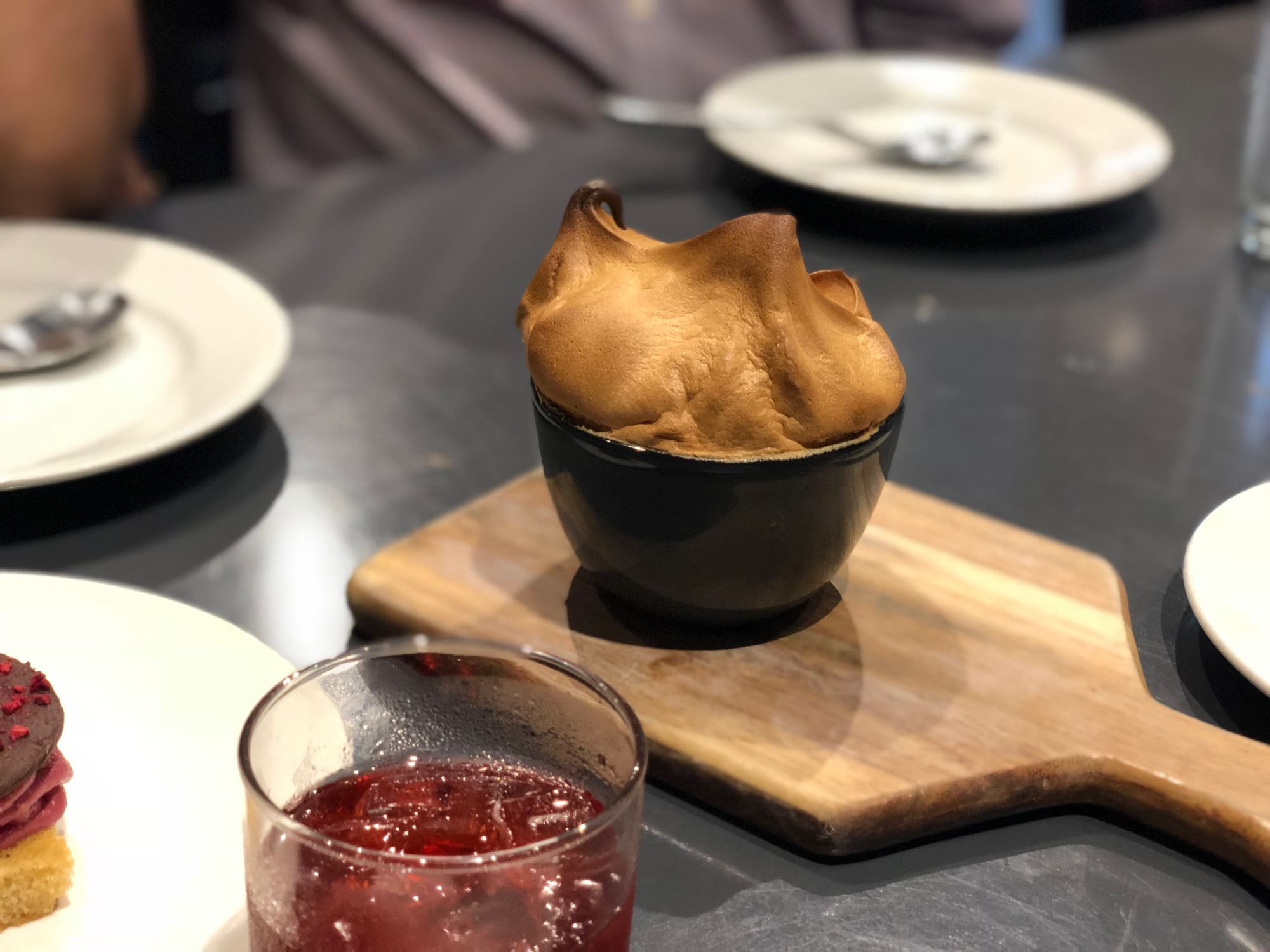 I randomly got cravings for banana pudding before Gunshow, now I randomly get cravings for THIS banana pudding. No fanciness to describe here — just simple, delicious, perfect banana pudding.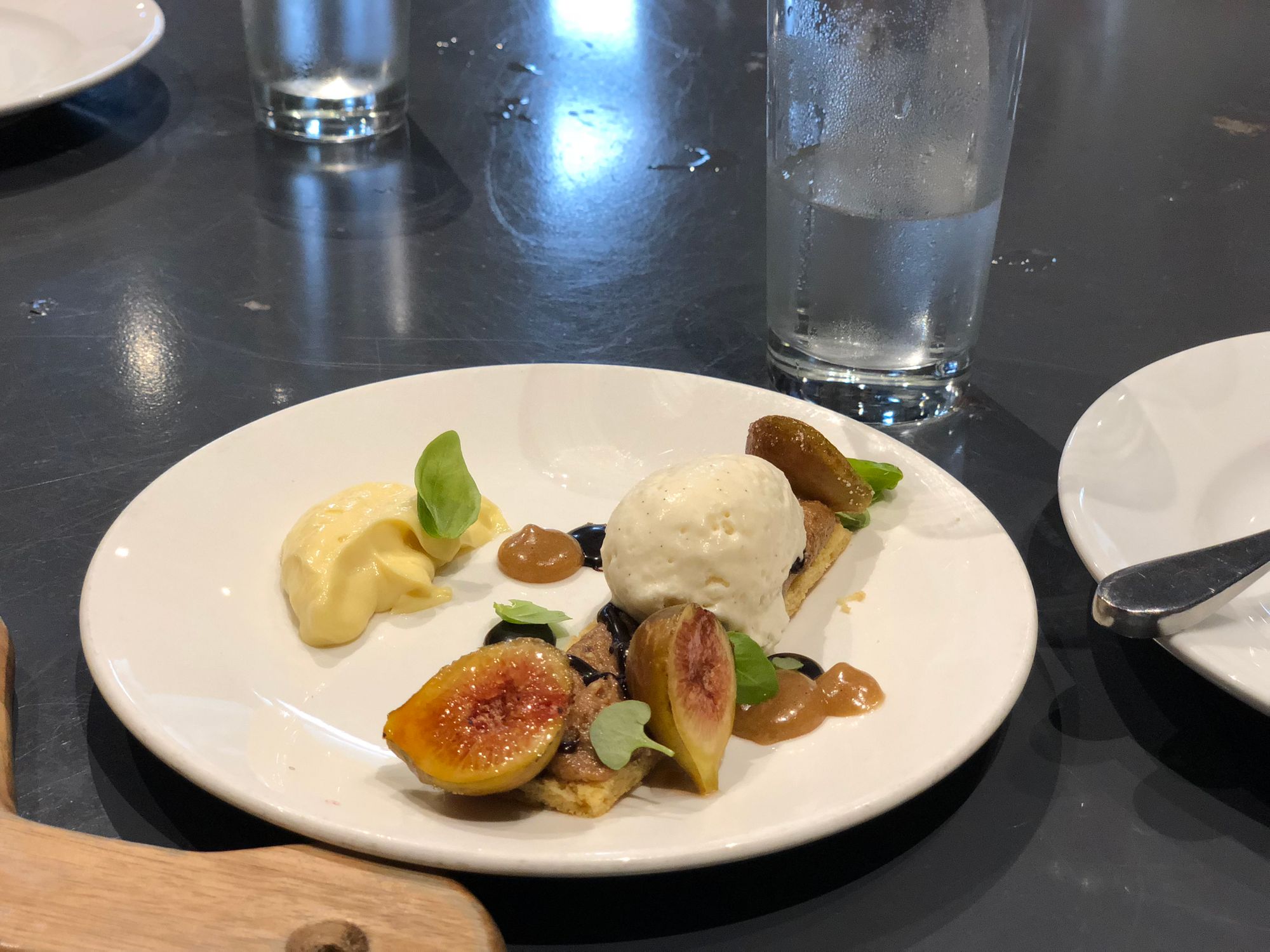 Every time I eat anything white chocolate, I tell people that it's not real chocolate. I don't know why. It's just what I do.
If white chocolate has a home, it's here, with figs and sesame caramel with flavors of coffee, chocolate and yuzu (a lemon-y citrus fruit).
Final thoughts
I'll be at Gunshow again. Hopefully sooner rather than later.
It's not just a meal, it's not just a celebration, it's not just a dinner. It's an education. It's an experience.
JW on the Road (the blog) is kicking off with this post for a reason — Gunshow embodies everything that this site will hopefully be about. I can't do it as well as these chefs can, but I can take you along on the journey. That's what it's all about in the end, anyway.
How do I eat this food?
Gunshow is in Atlanta, Georgia, southeast of downtown and not too far from the historic Oakland Cemetery. Reservations open up on Yelp one month in advance of when you plan to go, so mark your calendars.