Making shakshuka with Cheez-Its and instant ramen
It's a cold winter's night and you just want tomatoes. That's how it works right? This shakshuka is topped with cheez-its and contains venison sausage and more.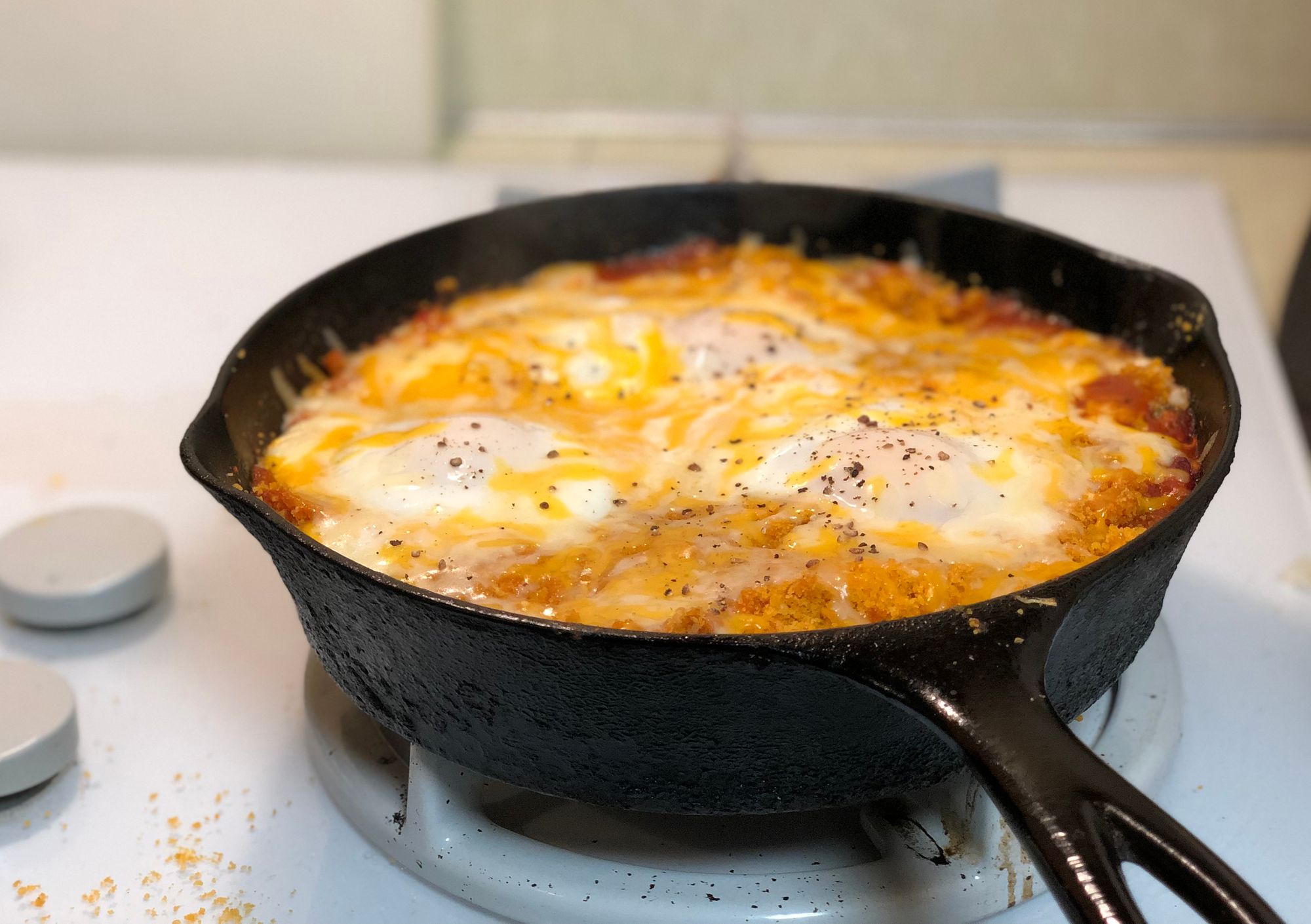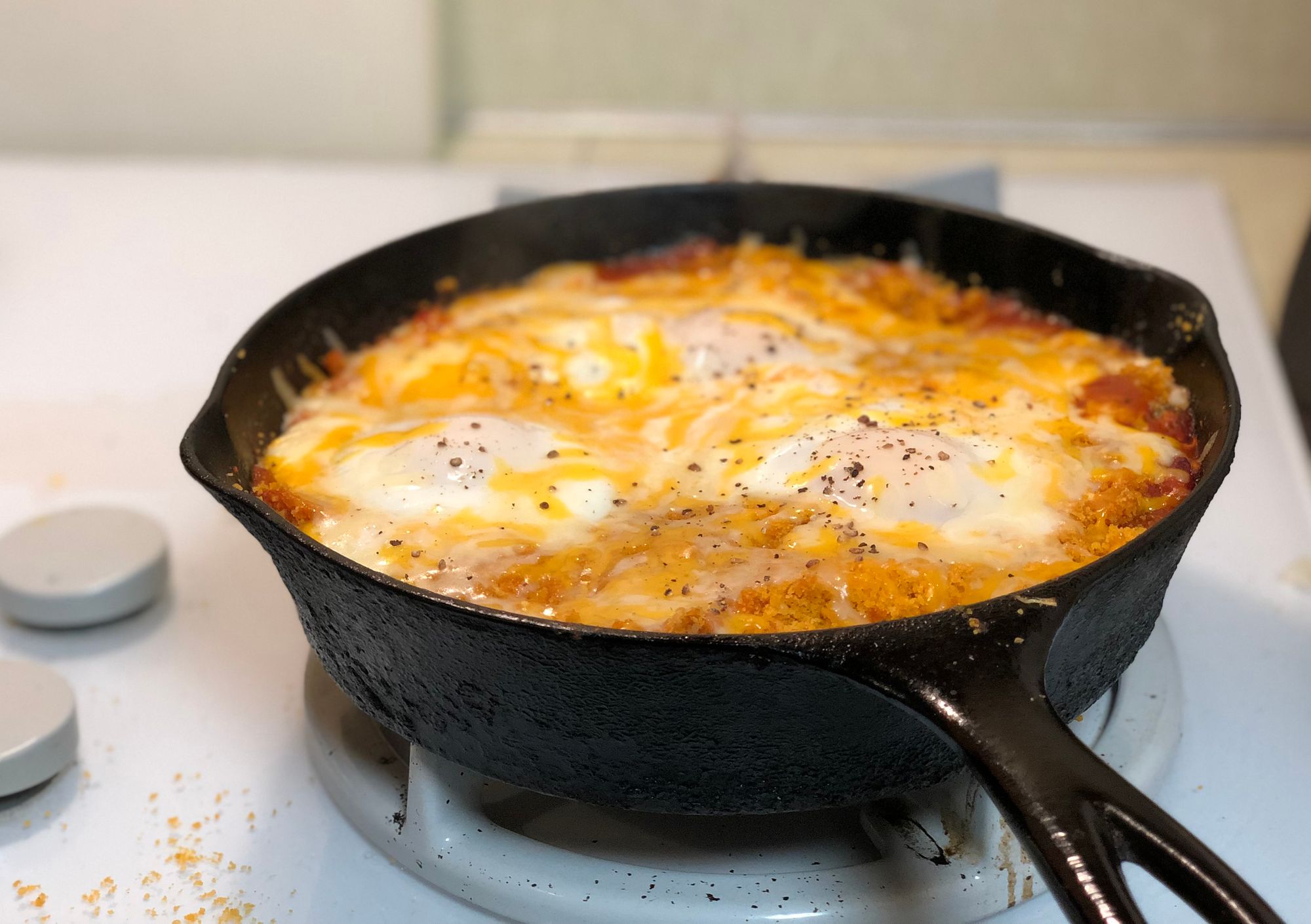 Editor's Note: The original version of this story was published on February 7, 2019, on the first edition of JWontheRoad.com as part of the "Challenge Yourself" series, which involved creating a dish out of a few unexpected ingredients.
The thought behind Challenge Yourself was so that my faithful readers (and those close to me — which, who are we kidding? Those are the same folks) can suggest crazy food combinations for me to try to make happen.
Finally, with this edition of Challenge Yourself, I have ingredients assigned to me! This time from my lovely girlfriend Samantha, who thought THIS would be fun.
Well, do I have a recipe for you.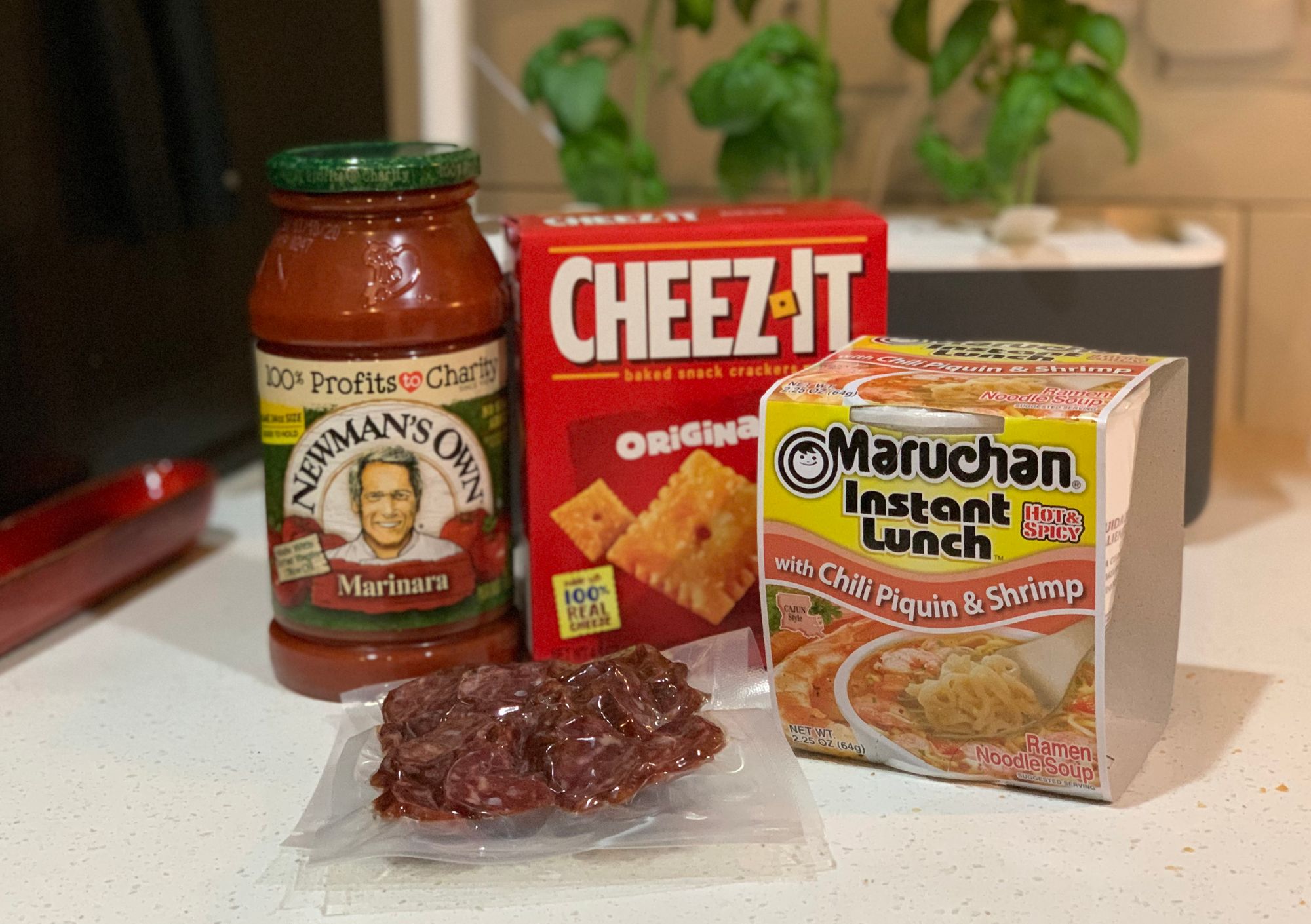 The challenge ingredients:
Cheez-It (4.5oz box — the small one!)
Smoked Venison & Pork Sausage with Jalapeños (Semi-Dry)
Marinara Sauce (24oz jar)
Maruchan Instant Lunch with Chili Piquin & Shrimp
The approach
As soon as I saw the marinara sauce, I knew I had to go with shakshuka. Shakshuka (sometimes spelled Skakshouka) is a dish originating from Tunisia that contains a tomato sauce base with peppers, garlic and a few other spices. There are different versions of shakshuka in different regions of the world, but it's most commonly found in Mediterranean and Middle Eastern cooking now.
Note: Want to recommend ingredients for future challenges? Let me know via the contact page.
The challenge with starting a shakshuka from a jarred marinara sauce (this was Newman's Own brand) was that it comes already seasoned. In addition to tomato sauce, the ingredients list for this jar also contains salt, carrot puree, olive oil, dried onion, dried basil, dried garlic, dried fennel seed and black pepper.
I put the marinara in a saucepan over low heat and added a little bit more black pepper and let it slowly come up to a warm temperature.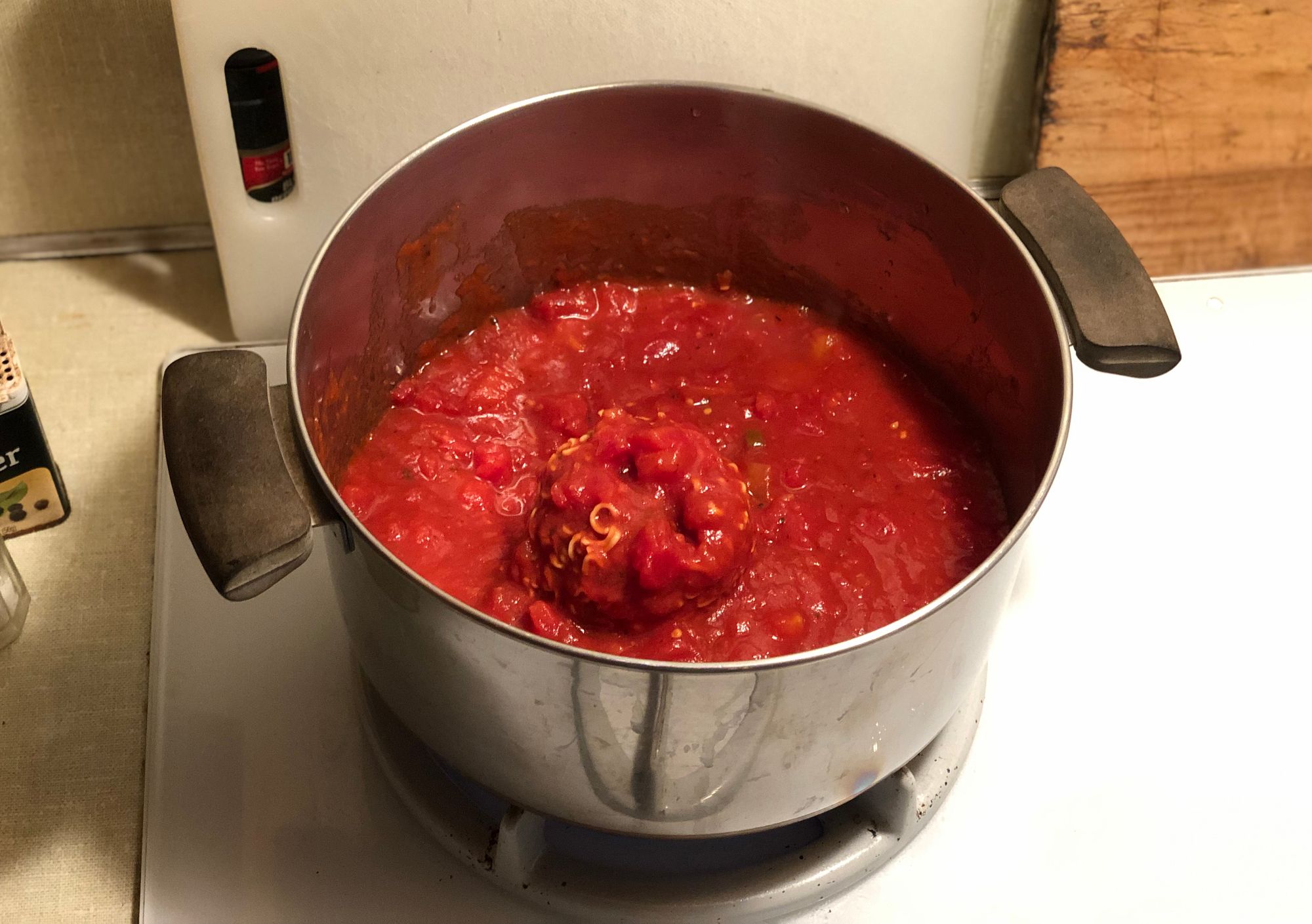 Then, I opened up the instant lunch — while Maruchan makes a variety of ramen-like products, this was the one that comes in a ready-to-eat styrofoam cup — cut the styrofoam off the chunk of noodles and dropped the noodles into the marinara. Just like it would if you added boiling water to the ramen, the warm marinara sauce helped break down the ramen into a more cooked-noodle-like texture. After the ramen was thoroughly mixed into the sauce, I tasted it.
Surprisingly, the chili piquin seasoning that came mixed in with the instant ramen (not in a pack like the stuff you get in the little bag for less than a dollar) was very dormant and instead only provided some subtle heat to the sauce. I had expected to have to do more flavor melding, but somehow it all blended all together well.
The noodles themselves were there. Noodles are not a traditional part of shakshuka, but I left them in for more texture and body.
As for the shrimp part of the chili piquin shrimp flavor? I honestly have no idea where the shrimp went after I added the noodles to the marinara. Was it a seasoning? Were there chunks? I have no idea. I didn't taste it. That doesn't mean it wasn't there, but the flavor virtually evaporated.
Caveat: I cooked this dish at my grandma's house in Pennsylvania, and she's got almost none of the normal pantry essentials I keep on hand. If I were home, I'd probably have added shrimp stock (which I always keep on hand and make after I cook or eat shrimp) to help bring out some shrimp flavor and make this truly representative of the challenge ingredients list.
Either way, the sauce wasn't bad with a little black pepper added, but I added some red pepper flakes, paprika, dried thyme and some cumin to pull out the cajun flavors (supposedly) present in the chili piquin mixture. While the paprika, red pepper and thyme made the dish more cajun-y, the toasty cumin balanced it with the black pepper, garlic and more Italian-y flavors.
I grabbed a separate pan. In this case, it was a 10-inch cast iron skillet. This pan was eventually going to be the vessel that the shakshuka comes together in, so best case scenario, it's a pan that can go into the oven. In the cast iron, I dropped just a dash of olive oil — seriously a very small amount — and put in half of an onion, diced.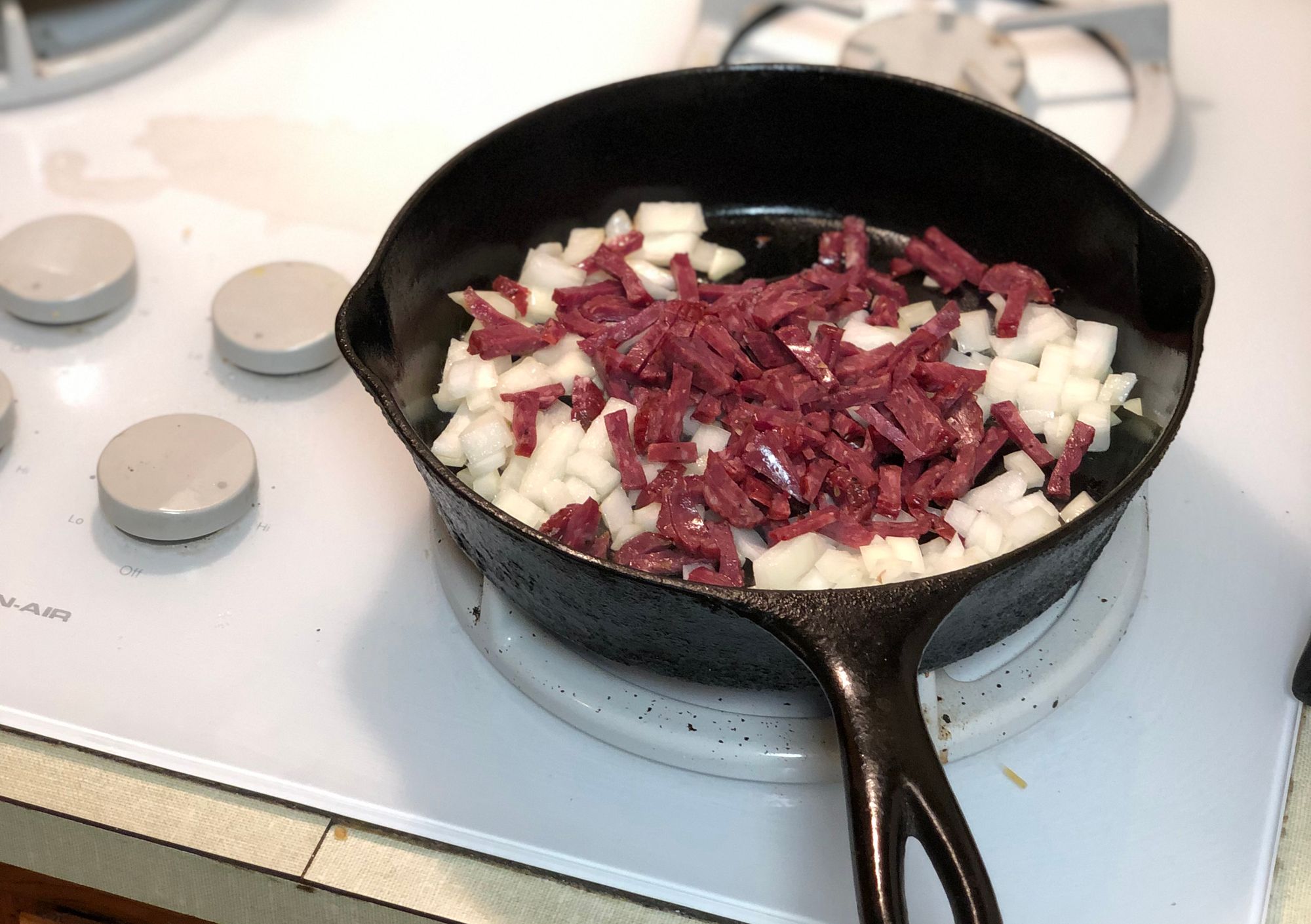 While the onion was cooking, I took the sausage out of the package and tasted it and got almost entirely salt and heat (hello, jalapeños). I chopped up the rest of the sausage, which was semi-dry, into small bits.
Once that onion started to color and became aromatic, add two cloves of garlic minced and the sausage. The goal here is for the sausage to pull in some of the aroma of the garlic and onions along with some of the fat from the olive oil to help balance (just a little bit!) the raw heat in the sausage from the jalapeño. I also really wanted to crisp up the sausage so that there was some different textures at play in an otherwise soupy shakshuka.
Once the onions and garlic had cooked down to my liking, and the sausage appeared browned enough, I added the marinara-ramen mixture on top of the onions and sausage and mixed so that all of the components could come together equally. When that started to bubble on the stove, I reduced the heat.
In my grandma's small hand food processor (basically an immersion blender with a very small food processor attachment), I ground the cheez-its into a powder. Now yes, I realize I have already done the pulverize technique for a CY post before (forgive me).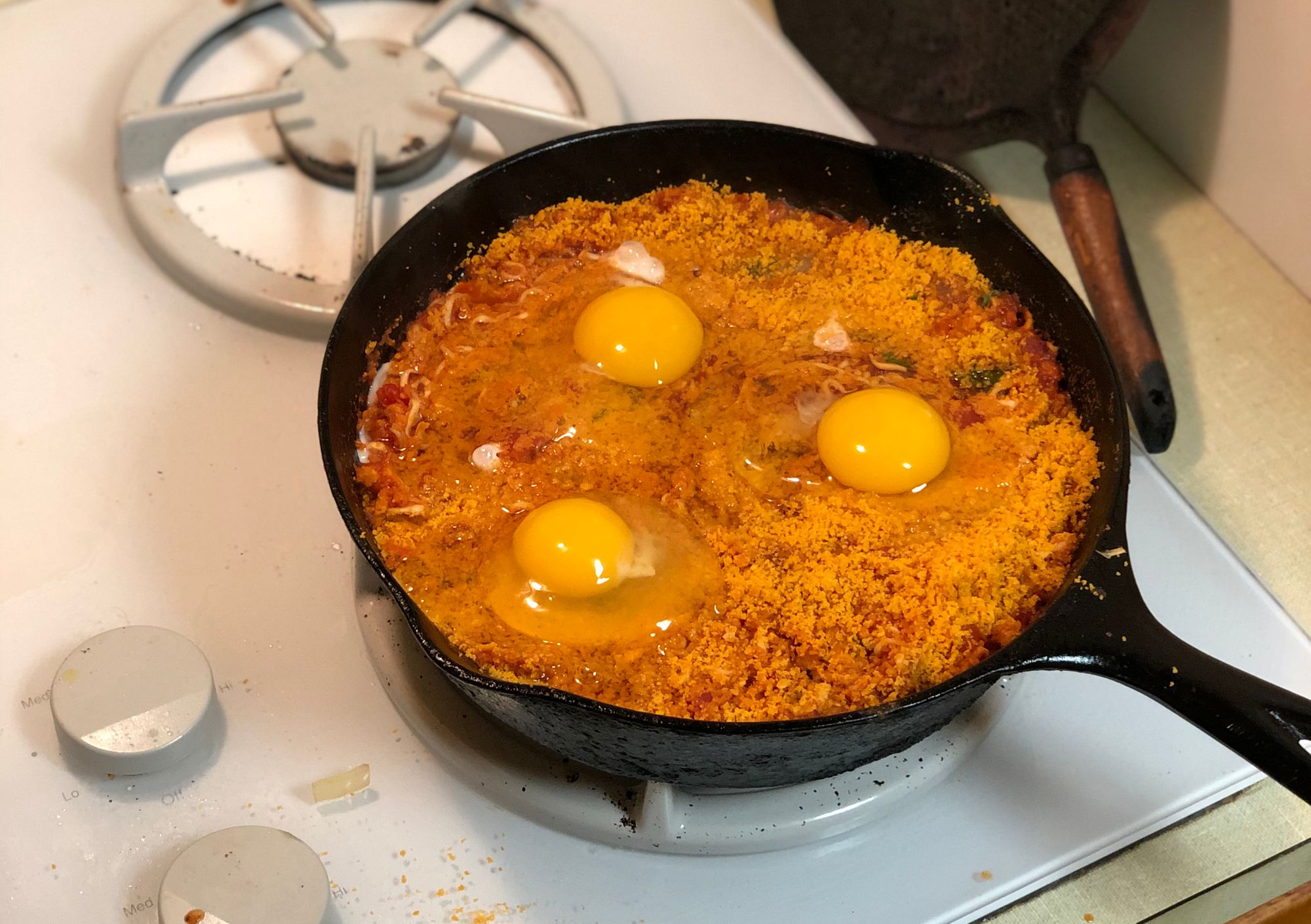 I heavily covered the top of the tomato mixture with the cheese powder. I was looking for a thick enough layer that you knew for sure that the Cheez-Its were there. If you're going to do it, do it.
Then, in traditional shakshuka fashion, I cracked three eggs into the bubbling mixture and covered it. Then I topped that powder and eggs with more shredded mozzarella cheese. This is a cheesy dish and I will not apologize for it. I did my best to leave the area where the eggs were open so you could see the eggs when cooking.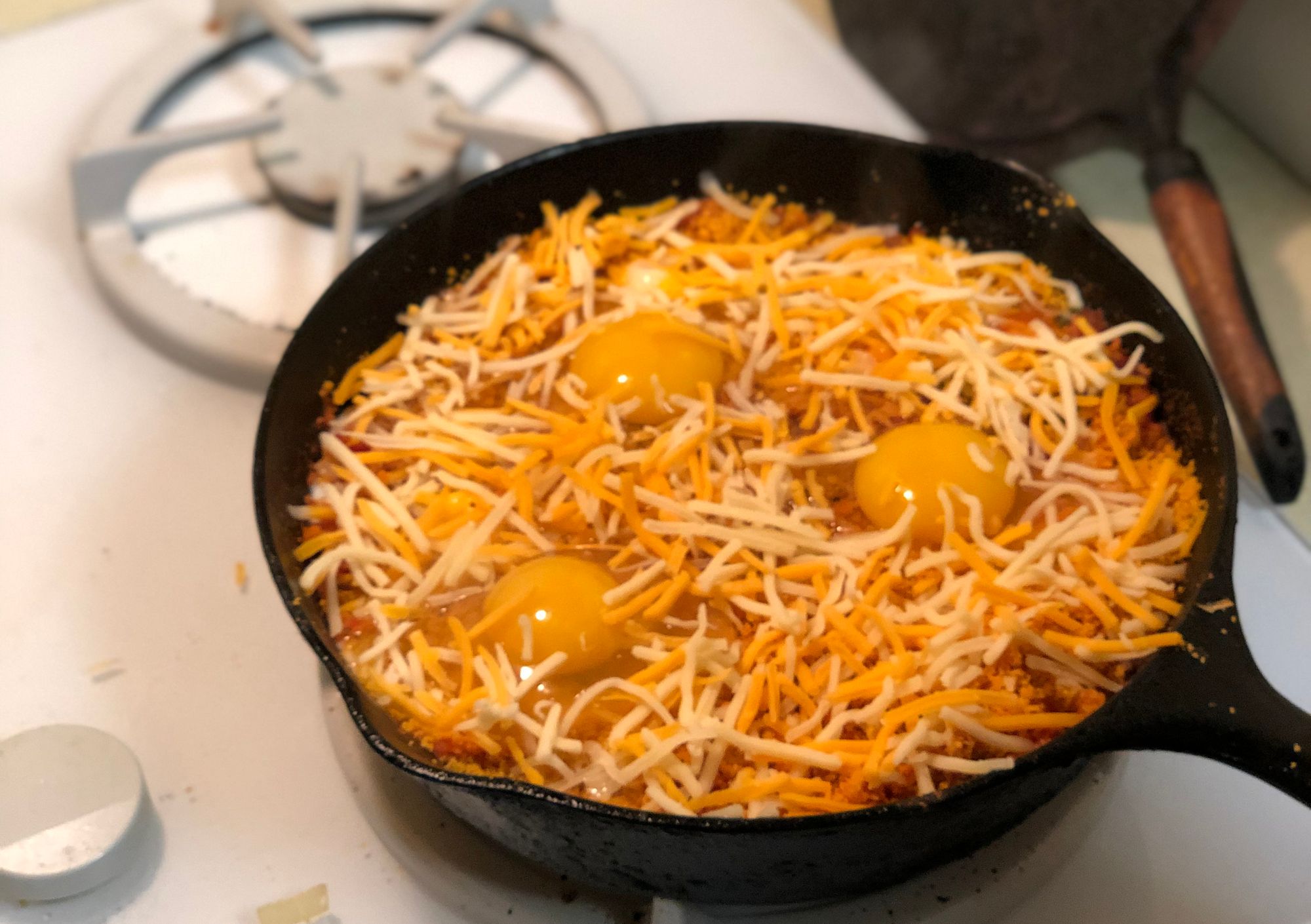 Another weird caveat: My grandma doesn't have an oven (long story), so I left this on the stove covered until the eggs were just barely cooked through — I was able to tell by the texture of the whites. If I were home for this, I'd pop it in a pre-heated 300ºF oven on the top rack for about 5 minutes to cook the eggs on top.
Shakshuka is a weird dish to plate, but again, partially due to my grandma's limited serving and cookware, I served this in a bowl making sure to get at least one egg per person. I wouldn't judge if you ate it out of the cast iron itself though. Rustic.
The verdict
This should not have been as good as it was.
There's no way that you should be able to take those ingredients and put them in a cast iron pan with little to no extra work and that it should be a dish that still makes me salivate months after first making it. The texture of the crispy sausage worked perfectly. You could taste the flavors I (tried to) develop in the marinara-ramen mixture. Most surprisingly, you can taste the cheez-it flavor even in the mozzarella cheese mixture. It weirdly works. I don't understand how, but it really does.
If this were not a challenge, though, I would of course do things very differently. I'd make the tomato sauce base from a mixture of canned tomatoes and fresh tomatoes, reduce it down into a sauce and develop seasonings (fresh thyme & other fresh herbs) along the way. I'd ditch the noodles from the ramen if I didn't "have" to include them. The noodles did provide some good body in the sauce mixture; however, they're just not really supposed to go with shakshuka. If anything, the noodles probably seeped flavor from the sauce (maybe that's why I had to amp up the cajun flavors). I think this would be better without them.
With the cheez-its, while I'm not sure I want to willingly use them again to make a dish like this, I think the powdered cheese mixture added great flavor (salt!) to the cheese mixture, and definitely has me thinking more about dried cheese and how that can impact a dish.
The non-forced ingredient that was a game changer here, though, was the onion. It balanced the sausage well and provided a great aroma. It helped break down the overall "prepared" taste of a lot of these foods and started down the path of tasting like something real.
I've already made shakshuka several times since this initial cook — none of those efforts have included cheez-its or venison sausage, but if I open my cabinet one day and those items are there (they actually are right now), I would probably do this again.
It was good. Like really good — in a very guilty-pleasure hunch over the cast iron on the stove and eat kind of way.
---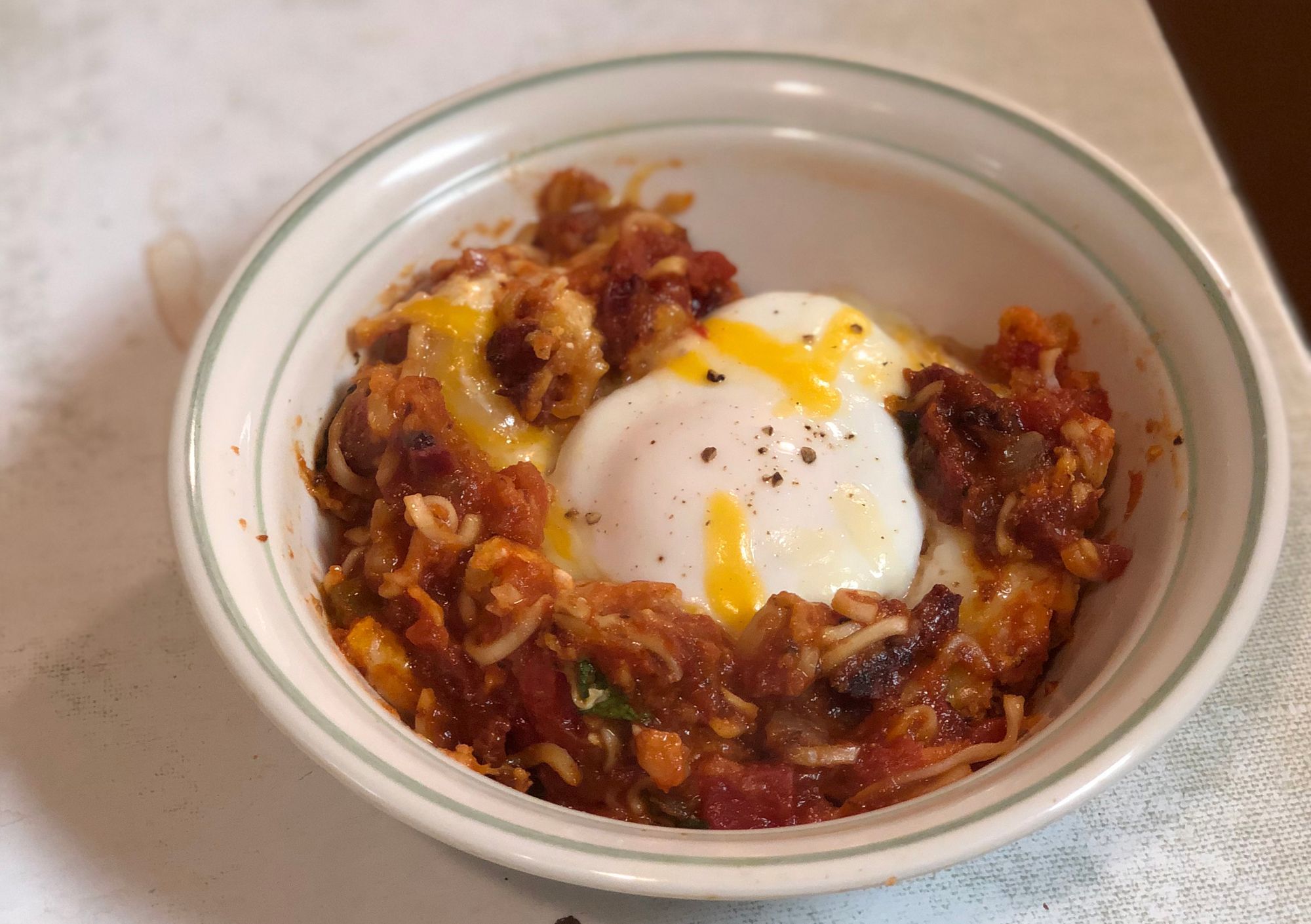 Cheez-It Shakshuka
Serves 3
Time: 5 minutes to prep, 25 minutes to cook
Ingredients:
1 24oz jar marinara sauce
1 Maruchan Instant Lunch with Chili Piquin and Shrimp
2 tsp black pepper
1 tsp red pepper flakes
2 tsp smoked sweet paprika
1 tsp dried thyme
1 tsp cumin
1 tsp extra virgin olive oil
2 cloves garlic
1/2 yellow onion, diced
8 oz La Villa Ranch Smoked Venison & Pork Sausage with Jalapeños Semi-Dry
1 4.5 oz box of Cheez-Its, ground
3 eggs
1/2 cup mozzarella cheese, shredded
Directions:
In a medium saucepan, warm marinara sauce over low heat until warm but not yet bubbling. Remove Instant Lunch from packaging and add to the sauce. Mix until combined and noodles are equally distributed.
Add the black pepper, red pepper flakes, paprika, thyme and cumin, and mix intermittently until mixture is lightly bubbling, approximately 5-7 minutes. Remove from heat.
In a 10-inch cast iron skillet over medium heat, add olive oil until shimmering. Add diced onion and minced garlic and cook until it begins to look translucent and is fragrant.
Chop the sausage into small, but uniform pieces. Size is up to you, but you want something that is not big enough that it occupies a full spoon but not too small where it gets lost in the sauce. My cuts were probably half an inch long and a quarter of an inch wide.
Add the sausage (all of it!) to the onion mixture and cook for approximately 10 minutes until onions are lightly browned and soft and sausage is crispy and has darkened in color.
Pour the marinara sauce mixture on top of the sausage mixture and stir to combine, ensuring that the sausage, onions, garlic and noodles are evenly distributed throughout the pan.
Warm until sauce begins to bubble.
Cover the sauce mixture with a thick layer of ground Cheez-Its. It won't be all of the Cheez-Its from the box (but seriously save these and coat anything with them, they're sickeningly good).
Crack 3 eggs equally distributed across the surface of the cast iron. Note: You can definitely use more eggs than this and do slightly smaller portions to serve more people, but it's up to you.
Top the Cheez-Its and eggs with a layer of shredded mozzarella — about 1/2 cup.
If cooking on a stovetop, cover with a glass lid so you can see when eggs are fully cooked. If finishing in an oven, put pan into preheated 300ºF oven on the top rack directly under the broiler and check after 5 minutes to see if egg is cooked. You're looking for light and fluffy whites around the edges.
Serve one egg per person in a bowl or on a plate with a grind of fresh black pepper.