Sweet and savory ways to use jicama
Jicama. It's that massive onion-shaped potato-looking vegetable you probably pass in the grocery store without ever noticing. Here are two recipes for the root vegetable.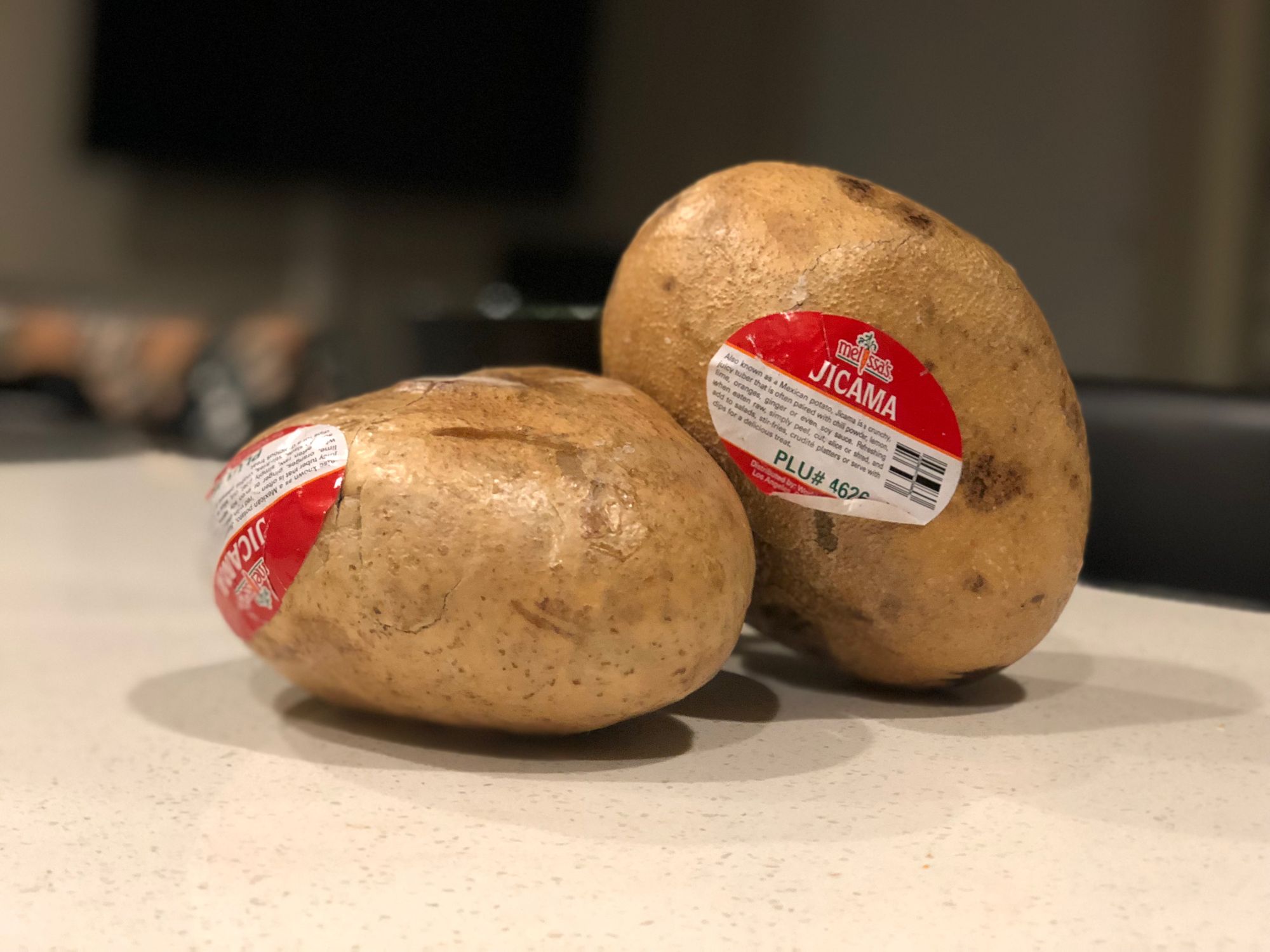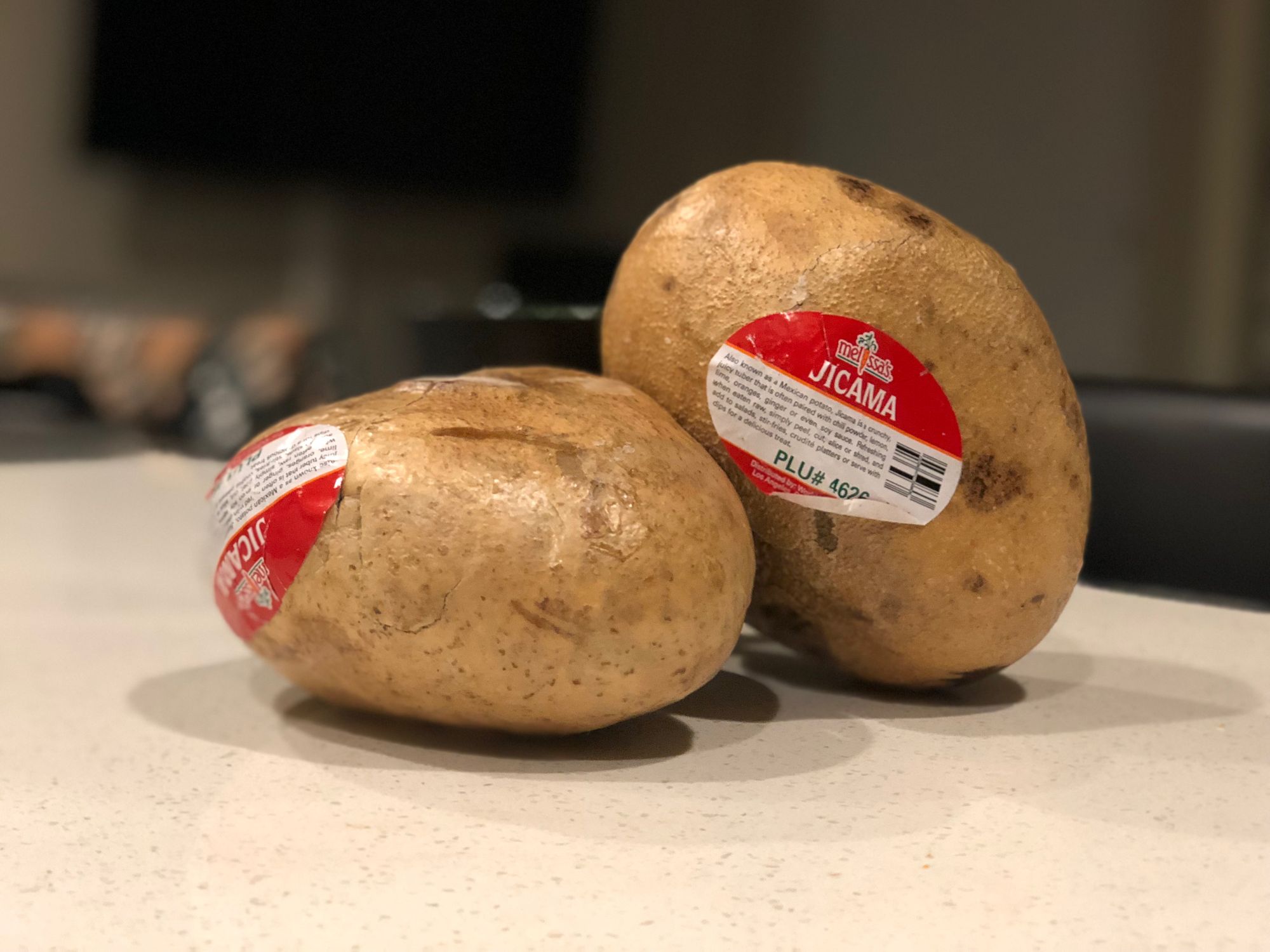 Editor's Note: The original version of this story was published on October 1, 2018, on the first edition of JWontheRoad.com as part of the "Know Your Ingredient" series.
Jicama. It's that massive onion-shaped potato-looking vegetable you probably pass in the grocery store without ever noticing.
But, then again, maybe you've picked one up, felt the waxy skin and dropped it back in its place, trying to wipe your hands of the greasy exterior only to find that it is not an exterior that lingers on your fingers.
Scientifically dubbed pachyrhizus erosus, jicama is a root vegetable native to Mexico. The vegetable is also sometimes referred to as a Mexican yam bean or a Mexican turnip.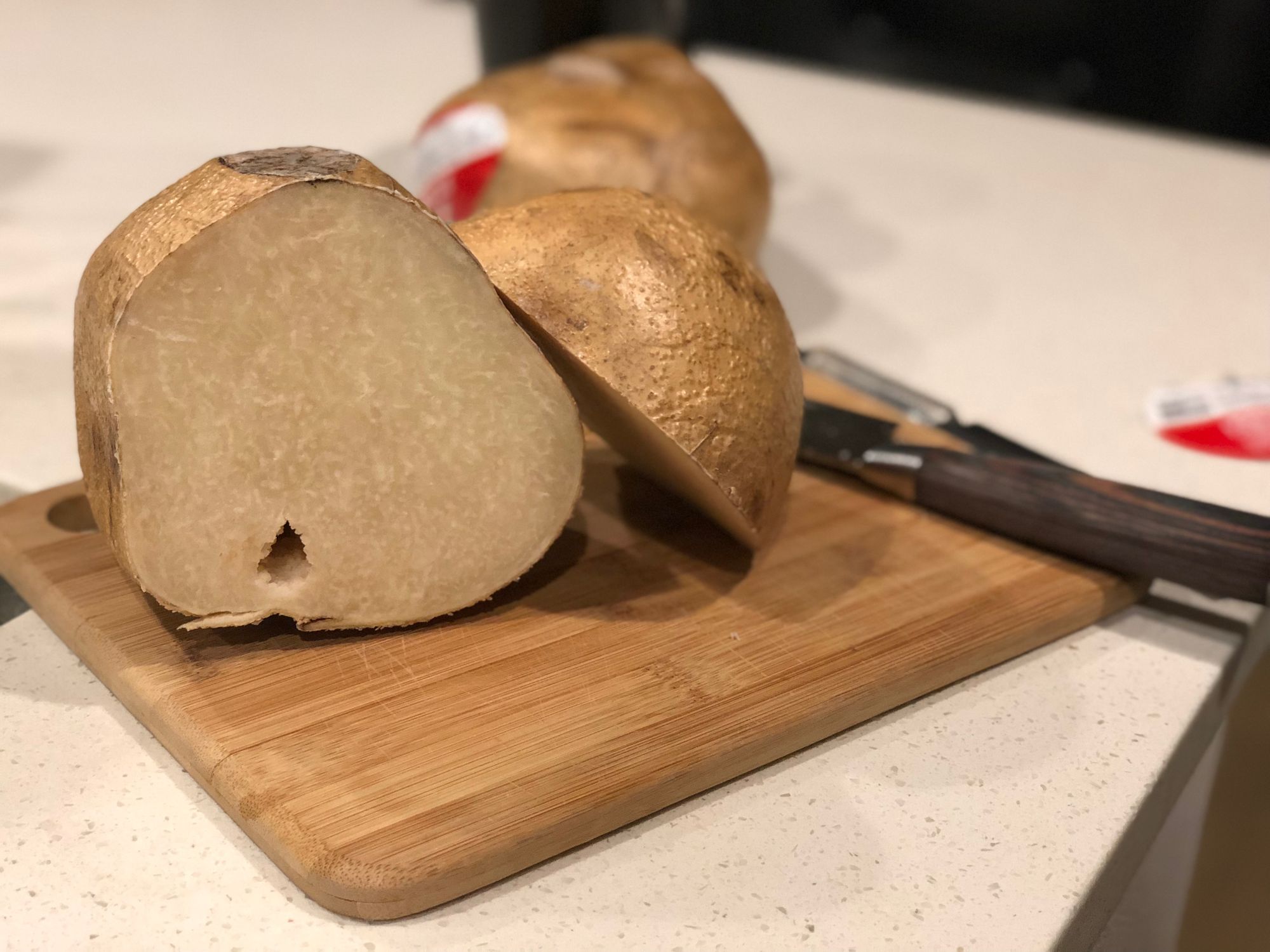 The bulb that we know as jicama actually grows from the root of the same name (which is also edible!). On the exterior, it's yellow and papery, while inside it's crisp and mealy, reminiscent of a combination between a raw potato and a pear.
Flavor wise, raw, it's mild. There's a subtle sweetness, but it's otherwise pretty bland. It's high in carbohydrates, specifically dietary fiber, and only contains small amounts of protein and lipids. The vegetable is very low in saturated fat, cholesterol and sodium.
A quick search online results in proclamations that jicama is "the humble tuber that deserves a spot on your plate," or "the most exciting vegetable you're not eating," or even "your new favorite vegetable."
But with all that said — what do people actually do with this vegetable? How do they eat it?
CookingLight writes that in Central America, jicama is "often sold by street vendors and commonly eaten raw, and seasoned with lemon or lime juice and chili powder." The Kitchn reports that jicama sticks can "stand up to a carrot stick any day." The site also recommends jicama in salsas,  slaws, spring rolls or stir frys.
When preparing a jicama, you might be tempted to try out a vegetable peeler to remove the papery (but surprisingly thick) skin from the flesh inside. As long as you exercise proper caution, I actually recommend using a chefs knife. Just be careful.
When it comes to cooking it myself, I wanted to try to come up with two quick recipes that highlighted jicama in two very different forms — one savory and one sweet. Jicama has notes of both of these in its raw form — it is a vegetable and feels like one, but also has the mealy interior reminiscent of an apple.
Savory
One of the many uses of jicama that you'll come across online is as a texture ingredient in ceviche. Ceviche, a serving of raw fish cured with acid (usually citrus), exemplifies freshness. The acidic bath that ceviche sits in brings a pop of flavor to your mouth that hits salt and sour perfectly. When you pair that with the subtle sweetness of the jicama, you get a bite that has a more complex texture than traditional ceviche but brings all the flavor that you want.
The recipe below is more "ceviche" than ceviche. It can be served to vegan and vegetarians. For an added flavor bomb, add shrimp or raw fish to actually make it ceviche, but I like it quite a lot on its own. The acid really softens the texture of the "ceviche," but not in a way that makes it mushy or unpleasant.
Sweet
I have a confession to make — I have a bad habit of raiding my cabinets for something delicious to eat at random times. It's not always late night eats or in-between snacks, but sometimes I just want to whip something delicious up really fast and really easily.
In college, I discovered the humble mug cake. Yes, the mug cake. The Pinterest-inspired Internet sensation that can make a quick single-serve dessert that is almost as delicious as it's full size counterpart.
However, with just a little bit of extra time and seasoning, you can make a mug cake that takes a vegetable like jicama and incorporates it into a delicious sweet treat. Scroll on.
---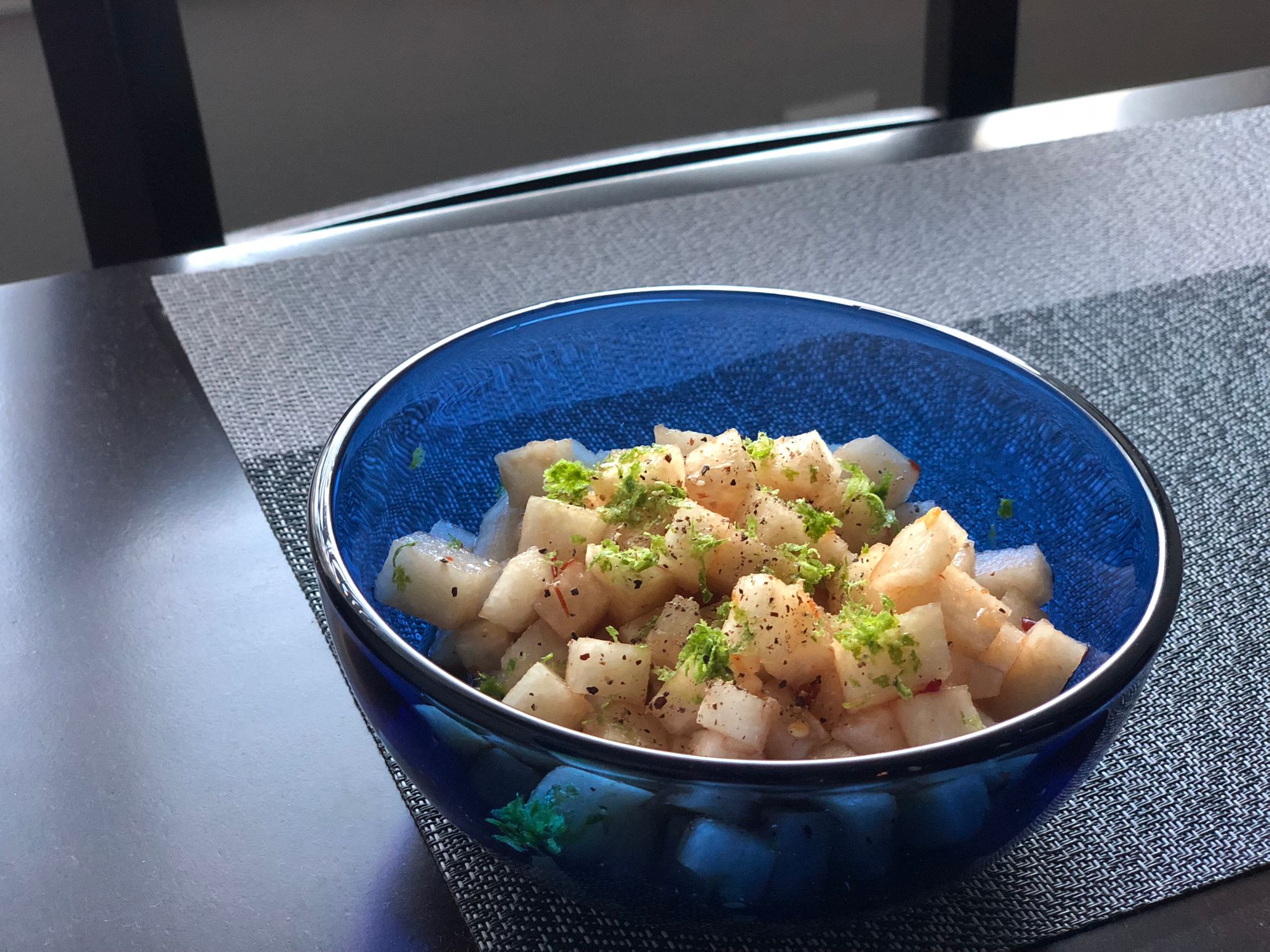 Jicama "Ceviche"
Serves 4
Time: 10 minutes to prep, 1-2 minutes to assemble
Ingredients
1/2 jicama, diced into 1/4" - 1/2" cubes
1/2 cup rice wine vinegar
4 tbsp soy sauce (low sodium)
2 tsp sambal
1 tsp Mike's Hot Honey
2 tbsp olive oil
Juice of 1 lime
Zest of one lime
Black pepper (for garnish)
Directions
Place the jicama in a medium bowl.
In a small bowl, vigorously whisk together the rice wine vinegar, soy sauce, sambal, honey, oil and lime juice until combined.
Pour the liquid on top of the jicama and chill for 10 minutes.
If the jicama is resting in liquid going more than halfway up the bowl, strain some of the liquid and reserve for another use.
Garnish with lime zest and black pepper to taste
---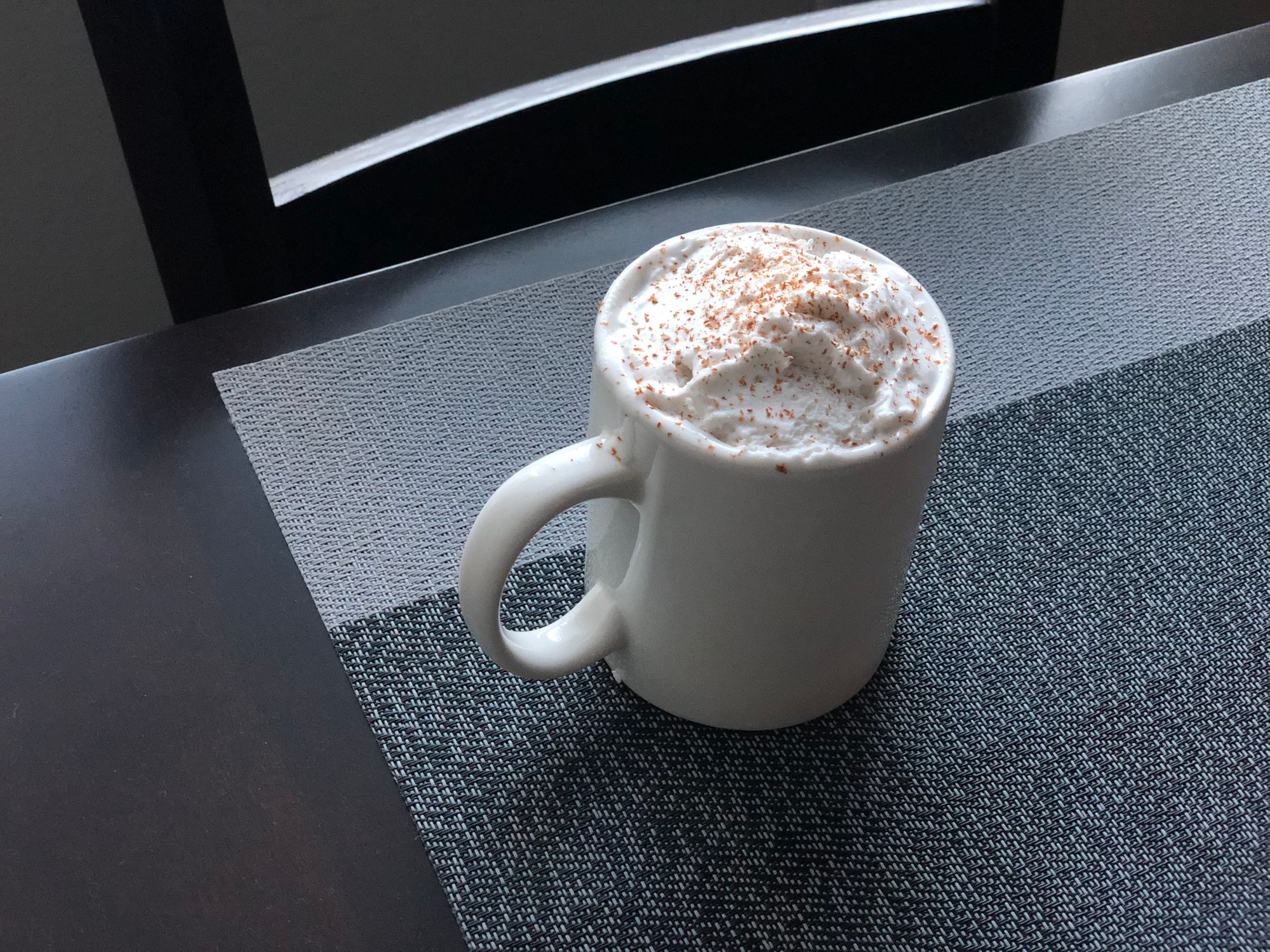 Spiced Jicama Mug Cake
Serves 2
Time: 5 minutes to prep, 10 minutes (total) to cook, 1 minute to assemble
Ingredients:
For the spiced jicama filling:
1 tbsp unsalted butter
1/4 jicama, roughly diced into small cubes
4 tbsp sugar
2 tsp cinnamon
For the mug cake:
3/4 cup all-purpose flour
1/4 cup sugar
1/2 tsp baking powder
1/2 tsp cinnamon, plus more for garnish
1/2 cup coconut milk
4 tbsp butter, melted
1 tsp vanilla extract
Coconut whipped cream (about 2 tbsp, but to taste — recipe in this post)
Directions:
Melt 1 tbsp of unsalted butter in a medium pan over medium-high heat.
Add jicama to the pan and top with sugar and cinnamon, mix in pan to combine ingredients with butter.
Cook for 6-8 minutes until jicama has softened and cinnamon is toasty and aromatic.
Remove jicama from pan and set aside, being careful to scrape out any syrup-y bits that may remain in the pan with a spatula.
In a small bowl, mix flour, sugar, baking powder, cinnamon, coconut milk, melted butter and vanilla extract until combined. I use a fork here to do this combination and then scrape anything stuck to the fork down with a spatula.
Divide mixture between 2 mugs.
Microwave each mug on high for 2 minutes until cake is loosely formed and steamy.
Top cake with jicama mixture and syrupy bits.
Garnish with coconut whipped cream and a dash of cinnamon.