A cauliflower dish no one would try, but that everyone actually should
Somewhere between general tso's chicken and buffalo cauliflower, you find this dish, made from iced tea, corn flakes, ham steak and cauliflower.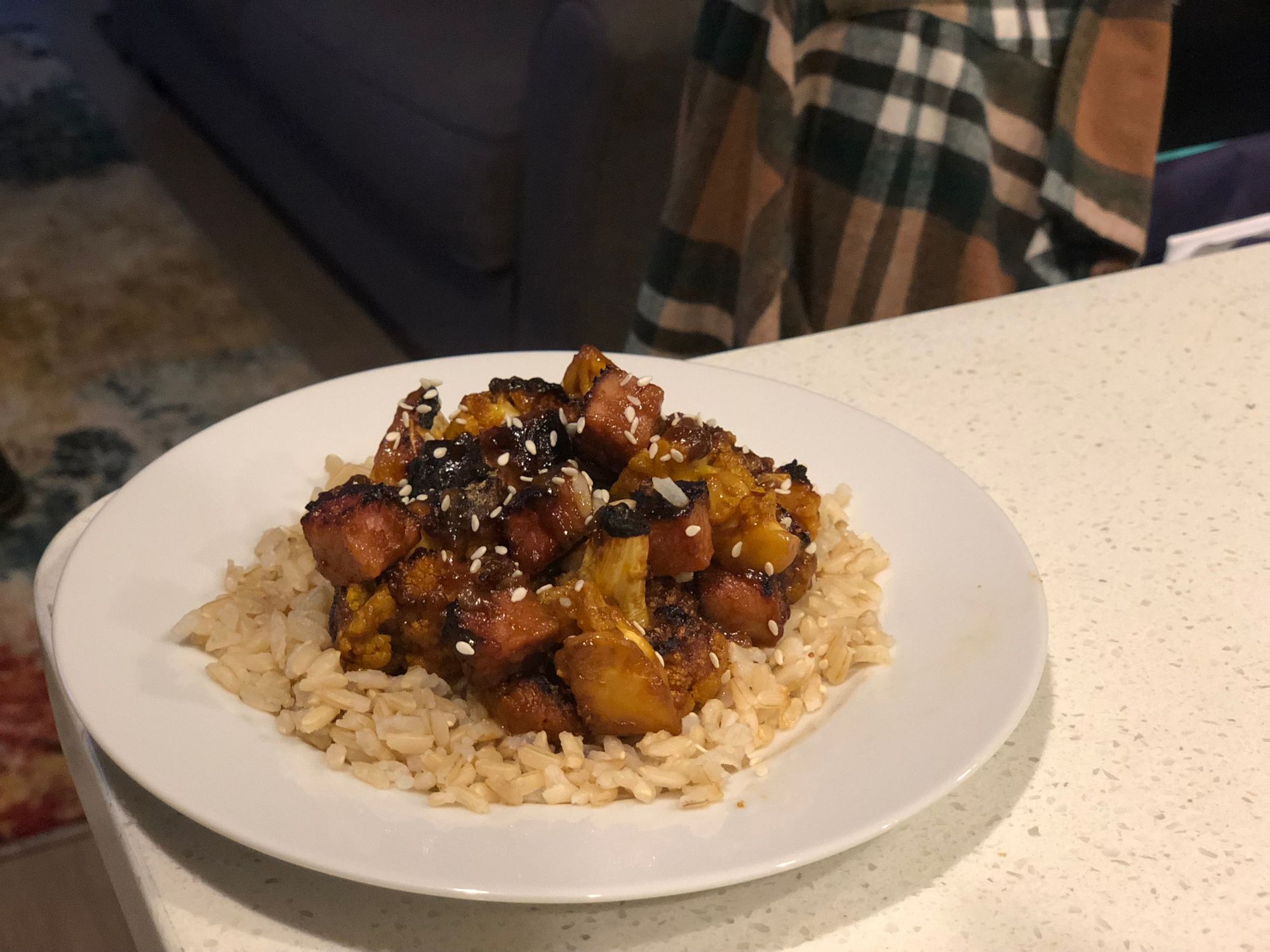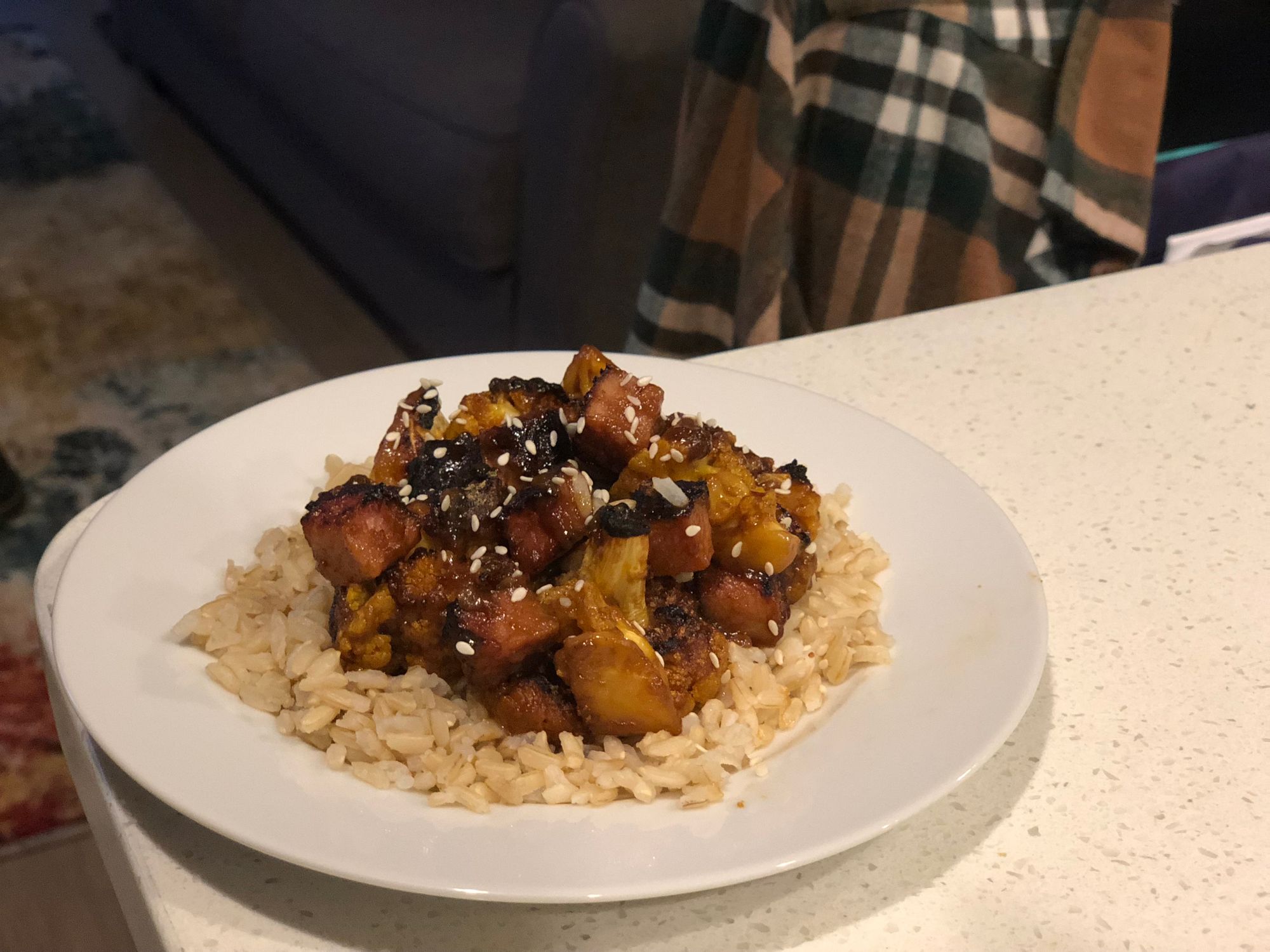 Editor's Note: The original version of this story was published on October 1, 2018, on the first edition of JWontheRoad.com as part of the "Challenge Yourself" series, which involved creating a dish out of a few unexpected ingredients.
When I was thinking about this blog, I was very excited about so many things. The Challenge Yourself series was pretty high among them.
The goal here is this: Take four (or more, I guess) ingredients that are seemingly random and create something that's (hopefully) good. The risk? If it's bad, I'm still committing myself to writing about it. I really want to encourage folks (and myself) to get out of their comfort zone and cook ambitiously, even if it's going to fail. Pizza is only a phone call away.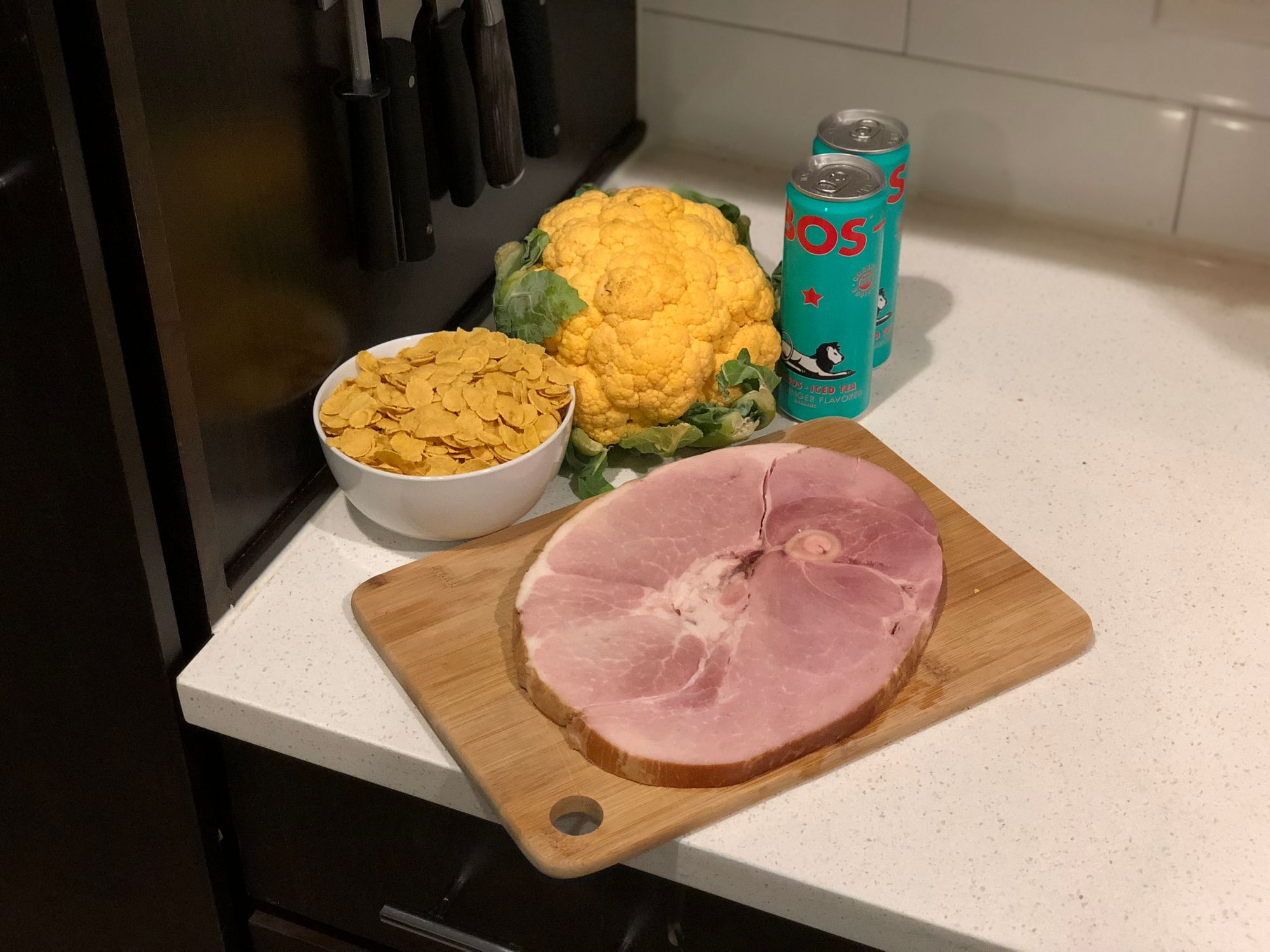 Challenge ingredients:
Orange Cauliflower
Corn Flakes
Ham Steak
Ginger Lime Iced Tea
The approach
The ideal situation for this series as always to have someone else recommend the ingredients for me; however, when it came time to put this post together, no one had time to recommend anything or go to the store with me. So instead, I purposely tried to grab ingredients that didn't go together. They needed to not have a natural fusion, and include a "wild card."
Note: Want to recommend ingredient sets in the future? Let me know via the contact page.
Did I pick these ingredients subconsciously knowing what I would do? I don't think so? But who knows.
Looking at these ingredients, I couldn't help but think about the moment that cauliflower is having right now. In some places, you're just as likely to see "Buffalo Cauliflower" on a menu as you are their poultry cousins.
So, looking at these ingredients, a sauce-covered cauliflower seemed like the way to go.
To start, I pulled out my pot and emptied the can of ginger lime iced tea into it over high heat. Before dumping it in, I took a quick taste of the tea. It reminded me of the drink that came from the powdered iced tea mixes I drank in my childhood. Sweet with an aftertaste of citrus. Kinda tastes like summer.
Honestly, I couldn't really detect the lime or the ginger at all in the tea — something I knew I'd need to pull out of it later if I wanted it to stand out.
While the tea was warming up on the stove, I opened my pantry to take a look at what else I had. Right away, hoisin stood out to me. Hoisin is a thick, sweet and subtly spicy sauce commonly used in Chinese cuisine. It reminds me a lot of American bottled barbecue sauce, but with a heavy dose of soy, chiles and garlic.
If you're adding hoisin to this sauce, you're instantly taking the dish into Asian territory. I followed the hoisin with some soy sauce and a dash of sambal. With those two ingredients, the main approach was to add some salt and some heat to work with the sweetness from the tea and the hoisin.
Looking back now and writing this, I probably would've added a dash of fish sauce here as well. That could've avoided the back and forth balancing act that I struggled with next.
When I tasted that, however, the acidity of the sambal and the salt of the soy sauce overpowered, so more sweetness was in order to balance.
Enter Mike's Hot Honey. I love this ingredient. They normally pay people (influencers!) to use it in recipes and on Instagram. I'm not one of those lucky ones, but I love it just the same.
The hot honey is made by blending honey and chili peppers, so it brings the sweetness but also brings a really slow-burning spice.
With sweetness, spice and salt all holding their own, I just needed a dash of acidity to balance it out. I used apple cider vinegar because it's my go-to vinegar in my pantry, but also because it wouldn't alter the color of the sauce.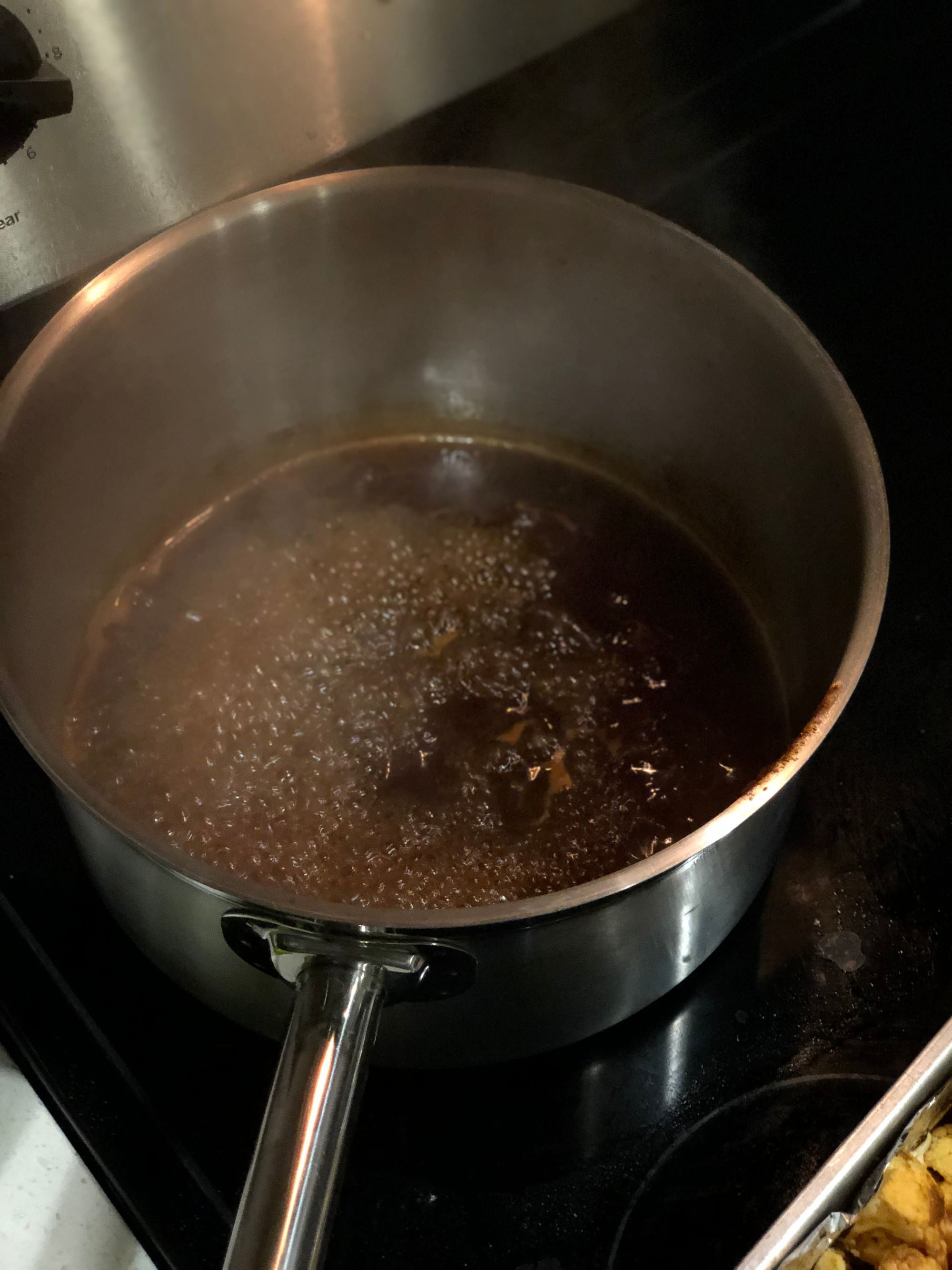 Thanks to the addition of the vinegar, the flavor of the sauce was pretty well balanced, but it needed 1) more quantity and 2) to be backed up by a supporting flavor. I added about 1 and a half cups of vegetable stock and let it simmer down until reduced by almost half. After the reduction, the sauce was more syrupy in texture.
Consider for a moment the ham steak. It's something I haven't seen since I lived with my parents and it was a quick-ish weeknight meal. Ham steak is great, but it's a bit limited in terms of its scope. The best way I knew how to handle it was exactly how it had been cooked for most of my childhood, but with the addition of the tools I've learned to use since.
While my parents would basically heat up a ham steak in a nonstick pan on the stove and then finish it on a sheet pan in the oven. I heated up my cast iron pan to as hot as I could get it, tossed in a just a little bit of vegetable oil and seared the ham steak fast and hot on both sides and then put it in a 300 degree oven to keep warm while I dealt with the rest of the ingredients.
Anytime I see a cereal or a grain product that isn't a rice or a pasta, I immediately think about how it reminds me of breading for a fry. I didn't want to fry anything here, but the texture of the corn flakes was certainly going to be useful. Using a spice grinder, I churned some corn flakes until they were a delightfully sugary powder.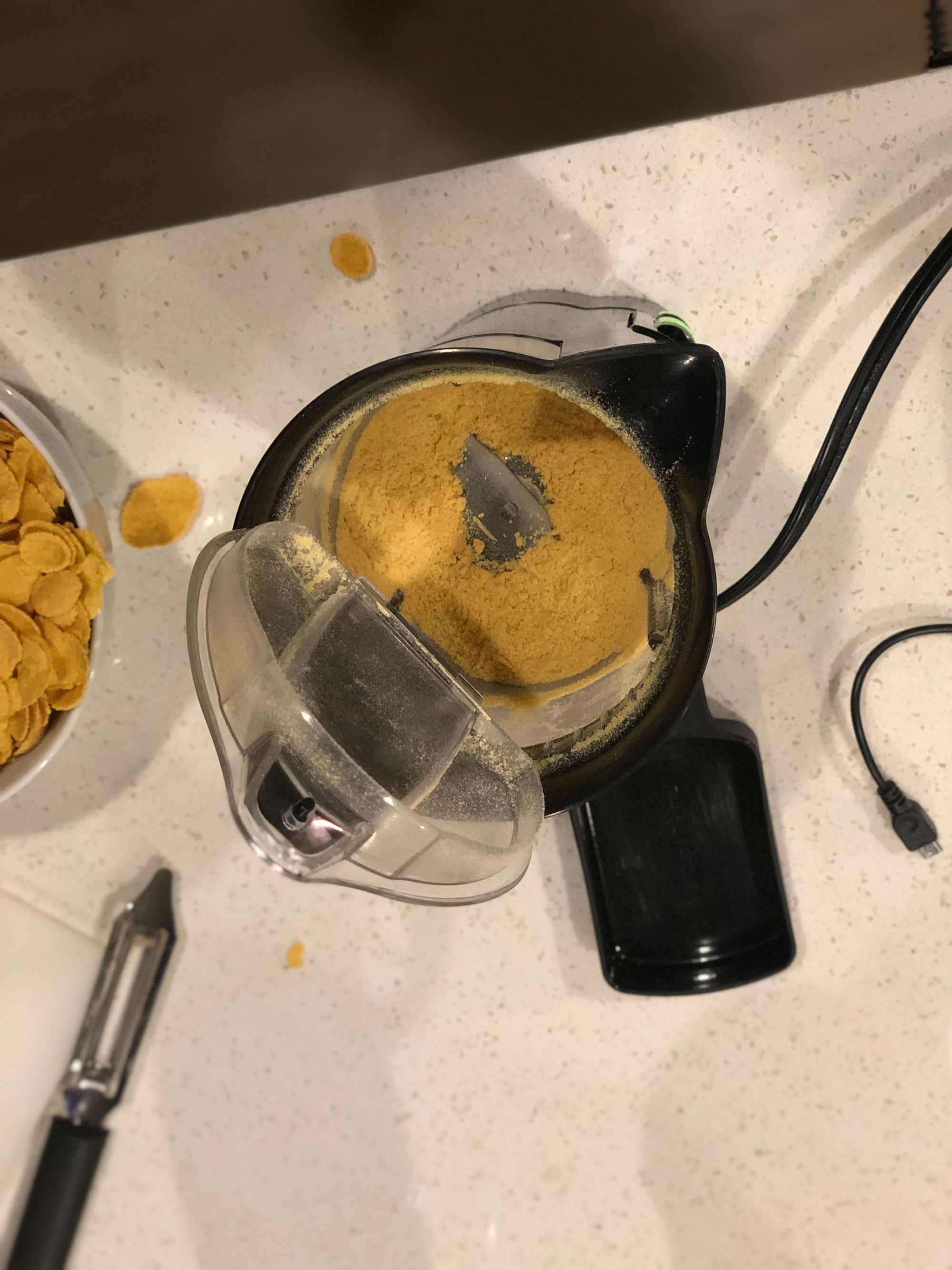 Before removing the corn flakes from the grinder, I added two teaspoons each of ground ginger and lime zest. Remember what I said earlier about the lime and ginger flavors being muted in the tea?
I cut the cauliflower into florets, tossed with the sauce I had reduced in the oven, and coated in the corn flakes mixture. I put the coated cauliflower in an oven-safe container and baked it on 400 degrees for about 15 minutes to soften the cauliflower.
Then, I added some additional sauce and some additional breading to the top and put it under the broiler for about 5 minutes to get a nice crisp.
While the cauliflower crisped, I pulled out the ham steak and diced it and tossed it in a little bit of the remaining sauce.
Afterward, I pulled out the cauliflower, mixed in the diced ham and plated over rice and topped with toasted sesame seeds.
The verdict
Good! Think sweet and subtly spicy. The cauliflower would be great on a skewer at a cocktail party and is just good and interesting enough to probably make someone ask you what it is.
Reminds me of a great play on general tso's chicken, or maybe even sesame chicken. Somewhere in there.
Admittedly, it kinda feels like I phoned in the ham steak, but the salty burst of flavor that comes from the ham mixed with the cauliflower was great. I'm also glad I included the ginger and lime zest in the corn flakes breading — it really amped those flavors up in a way that complements the dish.
All in all, a good first step. I'd make it again. In fact, I probably will.
---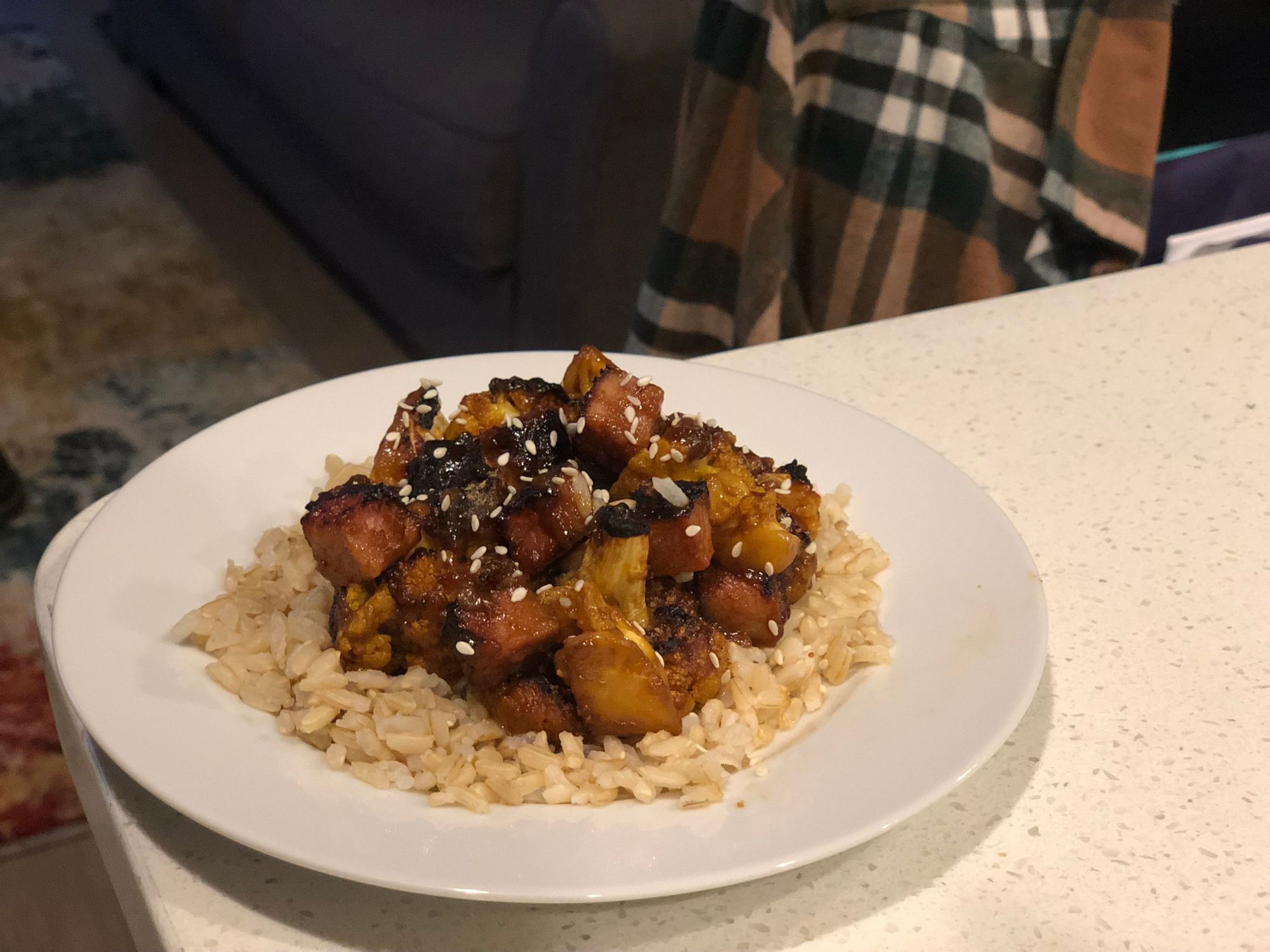 Corn Flake Cauliflower
Serves 4
Time: 5 minutes to prep, 40 minutes to cook, 1 minute to assemble
Ingredients
2 12 fl oz cans of lime ginger iced tea
1/2 cup hoisin
2 tbsp soy sauce
1 tbsp sambal
1 tbsp Mike's Hot Honey
1/4 cup apple cider vinegar
1 1/2 cup vegetable stock
1/2 cup corn flakes
2 tsp ground ginger
2 tsp lime zest
1 ham steak (approximately 1 pound)
1 tbsp vegetable oil
1 orange cauliflower
1/4 cup brown rice, cooked
1 tbsp sesame seeds, toasted
Directions
In a medium saucepan, combine iced tea, hoisin, soy sauce, sambal, hot honey, vinegar and vegetable stock. Mix together and simmer on medium-high heat until mixture is reduced by about half. This will take about 20 minutes.
In a blender, food processor, or spice grinder, combine corn flakes, ginger and zest. Grind or pulse until powdery.
On the stovetop, preferably in a searing hot cast iron pan with a tablespoon of vegetable oil, sear both sides of the ham steak until browned. Keep warm in a 300º oven.
Break down the cauliflower into florets. Set aside leaves or excess stalk for later pickling. Remove the ham steak from the oven and turn it to 400º.
Toss the cauliflower in the saucepan with the sauce. Remove from pan and coast with about 3/4 of the corn flakes mixture.
In an oven-safe pan, bake the cauliflower for 15 minutes. Remove from oven, coat with more of the sauce and the remaining corn flakes. Make sure to save a little bit of the sauce for the next step. Then, turn your broiler to high. When it's on high, put the cauliflower under it for 5 minutes.
Dice the ham steak and toss it in the remaining sauce.
Remove the cauliflower from the oven, mix in the diced ham steak.
Serve the cauliflower and ham combination on top of rice and top with the sesame seeds.